Maybe you are ready to add some spice to your study routine. Maybe you need a change of scenery. Or maybe you just failed your semester exams and looking for a new study spot.  
Lundagård interviewed 6 Lund University students of different ages, genders, backgrounds, and faculties who have suggested some of their favourite study spots.
Zoe Ravald
Studies: Media and Communications
Age: 19
Best Study Spot: LUX or Piratensalen at Grand Hotel
Address: Helgonavägen 3, 223 62 Lund or Bantorget 1, 222 29 Lund
"I've just started my bachelor's at Lund and so far my favourite spots would have to be LUX – Humanistiska och teologiska fakulteterna and Grand Hotel. It depends on what mood I'm in, but I like to sit around people as I feel like I am more productive."
LUX encompasses the faculties of humanities and theology and is located near Lund university's main library (Universitetsbiblioteket). Any student, regardless of their course, can choose to study here and as such you will find people from all faculties studying here. LUX is open Monday-Friday: 7.30-19.00 as well as Saturday 11.00-16.00.
Zoe recommends "bringing good headphones as it can get a bit loud at times".
On other days, when Zoe feels like mixing it up or when she is studying with a friend, she visits Piratensalen at Grand.
"The ambiance at Grand is amazing and so too is the coffee. I usually eat lunch beforehand to save money but often bring a piece of fruit or a protein bar to get me through until dinner".
Måns Hofvander
Studies: Mechanical Engineering
Age: 25
Best study spot: Study Centrum, Lunds Tekniska Högskola (LTH).
Address: John Ericssons väg 4, 223 63 Lund
LTH Study Centrum is an open space with lots of tables, a cafeteria and two separate individual quiet sections. Måns states that "if you are someone that needs a bit of a push when it comes to studying this might be for you. For me, being surrounded by students who are also studying was highly motivating and I think a big factor in what helped me pass my final exams!"
He also adds that "the chairs at Study Centrum are also incredibly comfy"
Although Study Centrum is not located near Lund centrum, it is close for those who live in the north of Lund at Kämnärs, Delphi, Hippocampus, Photo, Park and Sagoeken to name a few.
Any Lund University student can study here regardless of their course or program. Study Centrum is open Monday-Friday: 08:00-17.00 and after hours can be access with your LU Student Card.
André Kelmendi Jansson
Studies: Human Resources
Age: 23
Best study spot: Ideon
Address: Scheelevägen 17, 223 63 Lund
André enjoys studying in the cafe area of the main Ideon building. He thinks "the atmosphere is creative, light, and lively. Sometimes there is even piano music playing which is really calming. Ideon feels like I am studying in a cosy business area over a formal study library."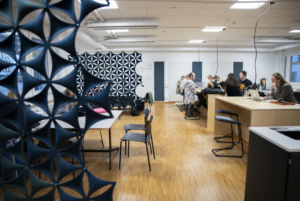 "I also tend to get tired sitting for long periods of time in warm inside environments. It may seem like such a minor point but the air in Ideon is very light and cool not as stuffy as other study spots or classrooms. The only downside I can think of to Ideon is that it is not open on the weekends.
If you like a space that is light and doesn't feel like a study spot with all the stress and associated pressure, then Ideon may be for you. Open Monday-Friday: 08.00-19.00.
Kristina Elveos
Studies: Fashion Science
Age: 21
Best Study Spot: SOL Library – Centre for languages and literature
Address: Helgonabacken 12 Lund
Kristina's favourite place to study is at the SOL library.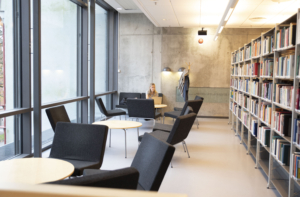 "I love the open windows and round tables where you are allowed to talk and workshop ideas with your classmates. I have had some insightful discussions here. It is also a great place to be if you have forgotten something i.e., your phone charger like me as there's always someone nearby who'll be able to help you out.
However, if you are an early bird studier SOL might not be for you, with opening hours Monday-Friday: 9.00-19.00 as well as Saturday 10.00-16.00.
Andi Nur Haeriah
Studies: Management
Age: 26
Best Study Spot: Athen, AF Borgen
Address: Sandgatan 2, 223 50 Lund
Andi loves studying on the ground floor study space at AF Borgen.
"Coming from Helsingborg and meeting my friends who live in Lund and Malmo, AF Borgen is super convenient for us. Plus, its proximity to Lund centrum with the plethora of cafes, baked goods and coffee is a big positive."
The study environment at AF Borgen is "spacious and fully equipped with a kitchen and microwave to heat up your food. There is also a merchandise shop near the Entrance that sells cheap coffee, baked goods and sandwiches." You can also grab a free copy of Lundagård here.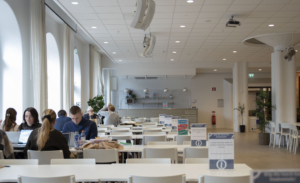 "My favourite part about studying here is looking out the big glass windows onto the park, which is currently beautiful shades of red, orange, and yellow with the changing colours of Fall."
Athen is only open on weekdays Monday – Thursday 09:00-18:00 and Friday 09:00-17:00 but you can use your LU Student card to access after 5pm.