Sweden has a day for celebrating everything. Cinnamon buns, waffles… even vegan pizza. Lundagård's reporters felt like this was a great opportunity to investigate some of Lund's pizza places and decide on what occasion they would recommend to visit each.
In order to have comparable pizzas, the reporters ordered the standard "veggie" pizza (often referred to as Vegetariana) at each restaurant with the addition of vegan cheese. As a pizza that often, despite its common occurrence across Lund's Pizza Menus, can turn out vastly different, the team set out to assess appearance, sauce, base, ingredient quality and vegan 'cheese'. 
The panellists:
Rebecca – Vegan for over five years and can, according to herself, stand vegan cheese since she "doesn't remember the taste of actual cheese".
Philippa – Vegetarian who previously was vegan for two years. Signed up to test pizzas despite being sceptical of the quality available as she hates anything highly processed.
Tomás – The curious omnivore!
Lazord | Score: 2.4/5
Getingevägen 50, next to Allhelgona church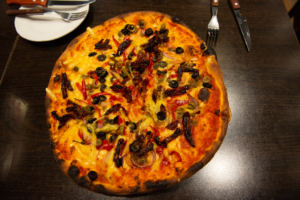 Even though Lazord impressed with a large variety of vegan pizzas – the pizza itself failed to win over the test panel. The strange combination of toppings with bell pepper, sun dried tomatoes, pesto and chanterelles, combined with the latter not even turning up on the plate, was a big disappointment. It was unevenly baked and reached a new level of greasy and soggy – although, bonus for the crusty edges!
Our assessment: Hungover and can't really bother? This is the place!
Scores from panellist: 
Philippa: 2
Rebecca: 2.4
Tomás: 2.9
V.E.S.P.A | Score: 3.2/5
Karl XI-gatan 1, close to Clemenstorget and the central station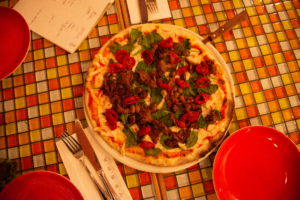 At V.E.S.P.A they have one vegan pizza on the menu with chanterelles, olives, spinach and semi-sundried tomatoes. The spinach was a nice touch, but it could have been added fresh instead of cooked in the oven. Also, the canned chanterelles could have stayed in the kitchen. However, the sweet and tangy semi-sundried tomatoes boost the overall score for this pizza, which in general was a tad underbaked and soggy in the middle. The source of the sogginess is likely from the excessively generous amount of vegan cheese (which – beware – they charge 15 kr extra for, even on the vegan pizza).
Nonetheless, V.E.S.P.A with its cosy and social feeling is the perfect place for that finished-with-an-exam celebration where everyone can join! 
Scores from panellist: 
Philippa: 2.8
Rebecca: 3.3
Tomás: 3.4
La Cucina | Score: 3.9/5
Hantverksgatan 8 – some 5 minutes walk from the central station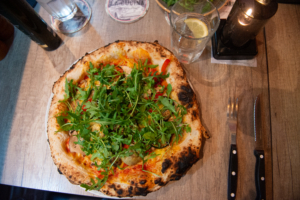 At La Cucina, you can get any pizza with the vegan cheese at the extra cost of 15 kr (but the non-vegans suggest that you save your money!). The Vegetariana is generous with grilled vegetables, locally grown mushrooms and arugula, which looks both fresh and delicious. The cheese was also decadent. Unfortunately, this made the middle not properly baked and a bit soggy. The crust, which takes us about 60% of the entire pizza, is on the other hand perfectly baked! The tomato sauce is tangy and sweet but the whole dining experience was peppered with the news that pizzas could not be ordered to share, ruining the social side of pizza eating.
Despite this, the cosy candle lit environment and tasty, complimentary olives made this the perfect place to take a loved one.  
Scores from panellist: 
Philippa: 4.1
Rebecca: 3.9
Tomás: 3.8
New York Pizza | Score: 4.1/5
Stora Södergatan 58B, close to Mejeriet and Stadsparken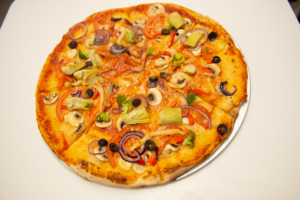 The large variety of vegan pizzas makes this a popular place among vegans in Lund – and with good reason! Here you get both a student discount and – if you ask the test panel – a close to perfect vegan pizza. The crust is evenly baked, no soggy middle thanks to a perfect  amount of cheese and a nicely balanced tomato sauce. There is a wide variety of toppings on the pizza which perhaps can be a bit fresher and topped up with some leafy greens, but the hot sauce knocked the entire dish into first place.
Our advice? Get a family sized pizza for when hanging out with your friends, preferably in Stadsparken when weather gets warmer!
Reporters note: remember to ask for the hot sauce – you will thank us later!
Scores from panellist: 
Philippa: 4.1
Rebecca: 4.3
Tomás: 4.0
To conclude, overall, the resounding thought about the vegan pizzas available in Lund is that there are plenty of great choices! From the more fancy La Cucina, to the cheap, cheerful and delicious New York Pizza, you can find a place for any occasion and price point. The non vegan side of the panel agreed that if you can stand dairy, then they would suggest you ditch the vegan 'cheese' as there often is too much of it which overpowers the rest of the toppings and makes the crust soggy. Either way, the panel agreed that the increasing availability of pizzas for all dietary needs is incredible and that the ability to share great food, celebrate time with loved ones and have a night of cooking should be celebrated – Happy Vegan Pizza Day!