Lugi Lions rugby club has become somewhat of a hub for international students. Last week, the club celebrated 50 years, and Lundagård met up with some happy rugby players just before the game.
Loud commands are being yelled across the pitch. You could hear them long before you enter the playing ground, where people have gathered to celebrate the 50 years anniversary of Lugi Lions, Lund's local rugby club.
A chatty crowd, made up of Swedish, as well as international students, friends and family, enjoyed some exciting games of the men's and women's teams. Most people who have come to Centrala Idrottsplatsen on the cloudy Sunday seem to know each other. It seems like the gathering of a big rugby family. Some former international students of Lund University even travelled to Sweden from abroad only to take part in the anniversary.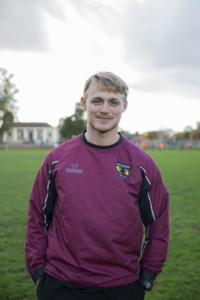 Dag Blomgård, who has been playing Rugby for almost seven years, is one of the organisers of the event. "Lugi Lions has always been sort of a hub for both Swedish and international students", he explains. "We have a lot of players who come in as exchange students. They are almost automatically drawn here. It's a very welcoming environment – so they naturally find us. Most of them have played rugby before at home or maybe they come from a country that has a tradition of playing. So to them, [coming to Lugi Lions] feels a bit like home away from home. And we pride ourselves with having such a welcoming and open community".
This strong social aspect also plays an important role on the pitch, where the game gets rather physical. An important part of the welcoming atmosphere at Lugi Lions is the fact that playing experience matter does not matter when a student wants to join. It's all different talent levels that come together and we just enjoy it and work together."
While most of the students find Lugi Lions themselves, the club also does a lot of promotion during fairs, such as Hälsingsgillet. They seem, however, not short of members. Two of them are Roos van der Togt and Johan Behmer. Both had several years of playing experience before joining the rugby teams of Lugi Lions. "When I moved to Sweden, I didn't have any friends, so one day I just thought that I could play rugby again", says Roos. "So I brought my rugby boots and I've basically never left the club since." Johan Behmer, who grew up in Lund, got into the sport throughout friends at school.
When asked what he appreciated the most at Lugi Lions, his reply highlights once again the social aspect: "I reckon it's the community. You get to meet a lot of people that you normally wouldn't meet, especially over international students who come." Roos van der Togt adds to this: "You basically give your life for each other on the pitch. It's a small team [with one men and women's team each], so everyone knows each other."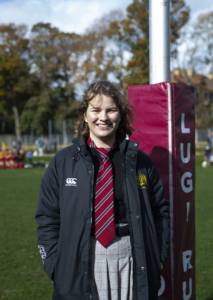 However, as rugby is a very physical sport, some students might shy away from trying it out. Both Roos van der Togt and Johan Behmer recognize this problem, but insist it is more fun than it looks. "Your body can do so much more than you think it can", said the Dutch student. "If you make a hard tackle or so, it gives you a lot of confidence."
What, then, would they tell other students to convince them of playing Rugby with Lugi Lions? "The nice thing about it is that there's literally a position for EVERY body type," Roos van der Togt explains. "It doesn't matter if you're big or short, there's a spot on the team for every size. In that sense: everyone is always welcome."
Another student at the jubilee is Pedro Vilplana from Chile. He arrived in Lund this summer and will stay for six months as part of an exchange programme. His playing experience comes from being at a Chilean amateur Rugby club for eight years. So, it was a no-brainer for him to look for a sports team in Lund as well. "It's very fun, I got to learn a lot", he reflects on his first weeks at Lugi Lions. "I got to meet more Swedish students, because in my programme at LTH, there's mostly internationals. Now I know more about the Swedish culture!"
Pedro Vilplana's experience is valuable for Lugi Lions, because they play with different tactics and intensity than his Chilean team. "I can tell them what I know and they can also teach me what things I can learn from them".