16 days into December. Today we have the pleasure of meeting Marco Rizzi, 22, from Milan who when he was five discovered that it was his parents, not Santa, who put presents under the tree.
Name: Marco Rizzi
Age: 22 years
From: Milan, Italy
Studies: Master's programme in European Affairs
When did you stop believing in Santa?
– Pretty young, probably six or five – I discovered my parents put the gifts under the tree.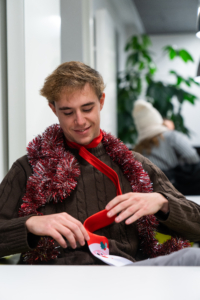 What do you eat for breakfast on Christmas Eve?
– We usually have panettone [an Italian Christmas cake of sourdough, editor's note], but without almonds because I'm allergic.  
Where was the prettiest Christmas tree you have ever seen? 
– We have a big one in Milan, in the main square. In Milan we are a bit "posh" so some people could say it's a bit snobby – but last year it was sponsored by Swarovski. It was a whole Christmas tree of Swarovski [crystals, editor's note] and it was very beautiful. But I don't really approve of it because behind the tree there were clochards [unhoused people, editor's note], sleeping in minus two degrees, and then we put Swarovski on a tree. But aesthetically it was very good looking. 
How would you describe the colour red to someone who is blind? 
– Very warm, emotional, cosyness. 
Which is THE Christmas film everyone has to see at least once? 
– "Trading Places", with Eddy Murphy.