Traveling back home can be hard on a student budget – especially if you are an international student. The inflation has made this increasingly challenging. Lundagård spoke to three affected students.
Christmas cheer is all around Lund. But this festive sparkle is not shared by everyone. For many foreigners living in Lund, particularly international and exchange students, Christmas is just another bleak reminder of everything they are missing back home. 
Lundagård spoke with two international masters' students from Indonesia, Patricia Romasi Pasaribu and Dyah Raras who do not share the Christmas cheer. 
"When I hear Christmas songs or see the Christmas trees in people's houses, it reminds me of home. And yes, it is sad, especially knowing I won't get to see my family this year" says Patricia Romasi Pasaribu. 
Patricia Romasi Pasaribu tells Lundagård that she won't be able to enjoy traditional Indonesian dishes in her family home because "going back to Jakarta for Christmas is both expensive and time-consuming. I checked airfares last night and an average ticket price from Copenhagen to Jakarta was 20,000 SEK economy. This was a 30-hour flight including a 12-hour layover in Singapore."
According to the news site The Local, airfare travel is one of the costs that has been influenced by decades-high inflation worldwide; perhaps the true Grinch this Christmas. Its cost is something to consider for foreigners in Sweden traveling back home, but so too is duration. When you factor a potential travel time of two days either side, long layovers, jet-lag and time differences, traveling home to countries in the Asia-Pacific region is almost impossible.  
For Dyah Raras, traveling home to Jakarta for Christmas was never really considered.
"I am here for a one-year Finance and Accounting Master's program at Lund School of Economics and Management, and it just doesn't make sense to go home. I knew studying here would entail this, so I had time to prepare myself for a Christmas alone."  
Both Patricia Romasi Pasaribu and Dyah Raras have been forced to find other alternatives for celebrating Christmas over the holidays. 
I didn't want to be the only one still in Lund when everyone left to go back home.
Dyah Raras tells Lundagård "Rather than spending money to go home for Christmas, I can make the most of being in Europe and do a bit of traveling in my semester breaks. A group of us are going to Berlin for a few days, then spending Christmas Day in Krakow, Poland, and finishing the trip with New Years in Budapest. It really is much cheaper and more convenient to do this". 
Likewise, Patricia Romasi Pasaribu adds that "I didn't want to be the only one still in Lund when everyone left to go back home. Instead, I will go to Swedish Lappland for Christmas with some friends I have met in Lund. This has been a dream of mine and one of my main reasons for choosing to study in Scandinavia".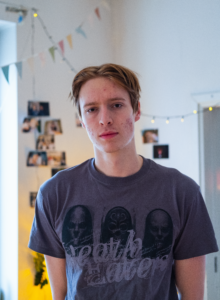 Money woes and inflation is not only affecting Lund's international crowd. Students in general are hard done by sky-rocketing rent and a lack of time for a full-time job, to combat the soaring prices of food and travel.
For Mikael Törnqvist, a Bachelor student studying Philosophy, Politics and Economics, traveling back to Stockholm for the Christmas break was always available given his student budget. However, due to rising inflation, that is no longer a safe bet. 
"I have a semester budget but the price of train tickets back to Stockholm keeps rising. Ticket prices during the Christmas break exceeds my entire December budget for food, drinks, and essentials" says Mikael Törnqvist. 
Just last month, Swedish rail company SJ:s site crashed when Christmas tickets were released, with many trying to buy a reasonably priced ticket home. 
"I was one of the lucky ones who managed to get a ticket from Lund C to Stockholm C on the 23rd of December. I had to ask my parents to borrow money which wasn't great, but I know I wouldn't want to be alone in Lund on Christmas" says Mikael Törnqvist.