North Korea's continued threats have instilled fear in the global community. Students from Lund University currently in South Korea, however, testify to a different reality than the one pushed forward by Western media.
By: Oliver Hugemark
Translated by: Anna Hamilton
After having fired a sequence of ballistic missiles, on the 3rd of September North Korea performed their sixth nuclear weapons test in a row. Despite repeated military threats from U.S. President Donald Trump and further UN sanctions against the country, North Korea's threatening rhetoric persists.
This semester, Lund University has exchange students studying at several universities in Seoul, the capital of South Korea. One of these students is Moa Persdotter, who will finish her Master's degree in Social Sciences at Korea University this fall. When she first came to South Korea she assumed that North Korea would be a sensitive topic. She quickly discovered that this was not the case.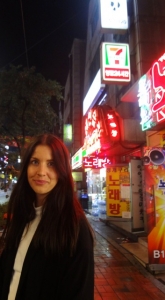 — In general people shrug off these conversations. The professors make fun of Kim Jong Un and describe North Korea's actions as idiotic, explains Moa.
The least stressed of all are the South Korean adolescents and young professionals whom Moa spoke with. Her impression is that they understand that it has always been this way and that most of it is being exaggerated.
— South Koreans are not particularly concerned. They work twelve hours a day and care more about appearance and social status than global politics. She says that they do not think that there is any reason to be more worried now than there was prior to the nuclear tests and missile launches.
One of Moa's classmates at Korea University has a PHD in North Korean studies. According to her, it is just an arms race and therefore North Korean threats should not be taken too seriously.
— She says that it would be totally irrational for North Korea to attack another country. They simply want the rest of the world to take them seriously and negotiate with them.
Isak Amundsson, an engineering student at the Faculty of Engineering, Lund University (LTH) who is spending his fall semester at Dongguk University, has had a similar impression. He explains that his stay has not been affected by North Korea's latest provocations.
— Of course, you hear about it on the news occasionally, but it is reported on more often in Sweden than here, Isak explains.
— Despite that both Moa's and Isak's friends and family in Sweden are finding it all to be quite concerning, they themselves are unconcerned.
— Since everyone else is taking it so easy, so do we. Here in Korea you learn not to take any of it too seriously, says Isak.
At the External Relations division at Lund University, Marie Herner Hällström, team leader for Student Experience and mobility, explains that there are no current plans to discontinue the student exchange program with South Korea.
— We abide by the Department of Foreign Affair's recommendations. All students who study abroad through Lund University are protected by "Student UT," a student insurance administered through Sweden's Legal, Financial and Administrative Services Agency, providing crisis assistance 24/7 through Falck Global Assistance, says Marie Herner Hällström.
In conclusion, Marie Herner Hällström emphasizes that students can of course end their exchange program early if they are concerned.