733 days have passed since the sound of Spritbolaget filled Stora Salen at AF-borgen for the last time before the renovation and the virus which shall not be named. First in line to host their novice party was the novice committee of Lundaekonomerna, which Lundagård's Linn Larsson attended as a former committee member. In the diary excerpt below she shares with us her experiences from the evening.
16:26 – We arrive at the pre-party at Helsingkrona, fashionably and rudely late. Apparently the theme of the sittning is "novice new years", which I assume is the result of a clearance sale at Buttericks. I went for an all-black outfit in an attempt to look dark and difficult, but fortunately, for the sake of the theme, my purse is in silver and gold (it is not as ugly as it sounds).
17:52 – Three calls to Taxi Lund, each more impatient than the other, later and we are on our way. Within five seconds we have demanded the chauffeur to inform us whether it is a busy night.   
18:59 – After queuing for an hour we finally reach Stora Salen. I gaze across the room trying to identify objects improved by the renovation. This is what I find: 
New chairs. Black (faux?) leather with stainless steel legs.

New staircase leading to Athen (I do not personally see it but someone tells me about it).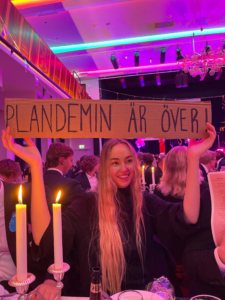 It seems the budget did not cover a new air conditioning system.
19:20 – I get ahold of a placard saying "The plandemic is over!" which I flaunt for all to see in true dudewithsign spirit. An, to me, unknown girl approaches and explains that she caught the aforementioned on camera, and she would like my permission to post it online. How very respectful of her! She gets my blessing.
20:16 – The toastmasters, two former committee members, show a movie displaying one of them and the present project leader kissing. Both of them are men. This receives roaring applause and the audience shout "One more time!", and they abide. They proceed to give us a live reenactment. The whole thing feels a bit like sexual appropriation, but I extend them the benefit of the doubt. 
21:10 – Dinner is served. I am happy to inform you that the vegetarian chickpea patties have not been updated in the renovation. The vegan vegetarian chickpea patties which, naturally, take longer to prepare, are served ten minutes later. My dietary preferences highly correlate with my level of climate anxiety. As it happened, the ticket release coincided with the IPCC report, meaning; this sittning I am vegan. 
22:43 – We are graced by a performance from the orchestra Bläckhornen. The first song has me standing on my chair and waving my napkin, but the following seems to be the longest fifteen minutes of my life. Luckily, it only affects my hearing sense as everything on stage is blurry. Did I finish my wine too fast, or is it tears that dim my vision?
00:39 –  There is karaoke at the mellanfest. I am ecstatic. My try-hard and dead serious singing is undoubtedly the main source of my anxiety.
00:58 – My friend uses his privileges to get us in through the back door, as he should, and we enter the eftersläpp without having to endure another queue. I feel very senior doing this. 
02:56 – Despite my embarrassing quest for an afterparty, I decide to do the wise thing and end the night on a somewhat dignified note. 
Prior to the event, I wondered if my excitement might be due to festive malnourishment. In retrospect, I can confidently say that a sittning in Stora Salen actually is just as wonderful as I remembered it to be. Also, Ted Mosby's mom was onto something when she said that nothing good happens after 2 a.m.