Now that a new semester has begun, many students return to the university to continue with their studies. For others, it might be the beginning of an exciting student life. Lundagård's Ivette Nogués Funtes has met with some students at Lund University to ask them about their expectations for the Spring Semester. From first-year bachelor students to master students writing their thesis and exchange students about to leave Sweden, here is what they have to say!
Thomas Avarino
20 years old
First-year student of Bachelor's program in Development Studies
What do you look forward to the most this semester?
This semester I am using my extra credits to take a beginner's course in Swedish, which is something I really look forward to. Even though I have already caught some words in Swedish after living here for a few months, I am excited to have some classes and really put in the time to learn the language. 
I'm also thinking of joining some new associations this semester and being more engaged in student life in general so I'm excited to see how it goes. I changed my nation and I'm planning to work there with a friend, which I'm sure will be a lot of fun. One other thing I definitely look forward to is seeing what Sweden is like in spring because everyone keeps telling me about how nice it is to leave the winter's dread behind and instead see the flowers blossoming and get some sunshine. Two events I'm definitely very excited about are Valborg and Lundakarnevalen, of course! I think both of them are going to be a lot of fun and I hope that by then the pandemic situation will be more under control so we can all have a great time. 
Felix Jakob
25 years old
Second-year student of Master's program in Welfare Policies and management
What are your plans for this semester and for once you finish your studies?  
This semester I will mainly be working on writing my master thesis. Somewhere between 35 and 50 million people in the EU have a hard time keeping their houses warm, the lights on, or the water running due to rising energy prices and structural disadvantages or even discrimination. I will be studying this phenomenon called "energy poverty," focusing on Germany. You could take that as an indication of my future plans, but you would be wrong. From a Ph.D. in Sweden to an NGO job in Austria, nothing seems particularly implausible for me. 
I would love to stay in Sweden and will spend the semester furiously improving my Swedish, but working in (social) politics in a country whose language you're not native to is a steep mountain to climb, especially if you also have to appease your conscience. So chances are, I will find myself back in Germany, where I will mimic Don Quixote, trying to convince a very partly wealthy society that poverty and inequality are a problem, while trying to keep my own head above wate
Marja Babic
23 years old
First-year student of Master's program in Food Technology and Nutrition
What things do you want to do differently compared to last semester?
I really enjoyed last semester and I thought it was really nice, but maybe one thing that I would like to do differently this semester would be getting more involved in the student life or even in other activities not related to the university. 
I would really like to be more involved in social activities outside of my dorm, which is where I spend most of my time now and where most of my friends are. For example, I was thinking that I would really like to join some dance classes or find some other hobbies in Lund. I would also like to meet more people in the city and maybe get to know my classmates better since last semester we could not spend that much time together because of covid and the online classes. And now I mostly spend time with people from my corridor, I think that meeting my classmates more often or getting to know new people in Lund would be really nice.
Mathilde Rose
20 years old
Exchange student of Political Science from Science Po Strasbourg 
What will you take home with you after your exchange at Lund University?
From my time in Lund, I think I will always remember the people I have met, I had an amazing group of friends and I really feel that they are friends for life. And I will keep great memories of our trips and all the time we spent together! Thanks to them I have also learned a lot about myself. After six months in Sweden, I know that I really prefer nature and hiking instead of big cities. Thanks to my friends I have also improved my cooking skills and I enjoy running much more than before!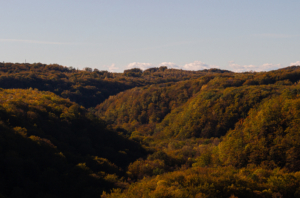 Thanks to my exchange in Lund I have also learned a lot! I have learned what I really want to do with my life and it helped me to decide which master I want to do and which values really matter for me. I know myself better, which my real hobbies are and what I like to take the time for. And since it was the first time I moved out of home, I have learned how to deal with all the household tasks and organize my daily life. 
And finally, I will remember all the beautiful landscapes that Sweden can offer. Fun fact: I have learned to enjoy the sun!