Leaking ceilings, moldy walls, electricity issues, thousands of fault reports and 1100 tenants to be managed by fifteen employees. What does living at LU Accommodation offer to the international students?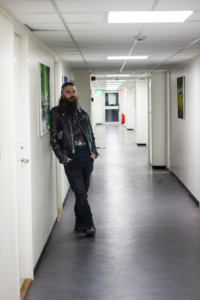 After a 30 hour flight, master's student Dain* dragged himself and his heavy luggage to the dorm. He had watched LU Accommodations promotional videos on Youtube before coming to Sweden and expected to jump into the comforts of fresh, modern housing. 
Instead, he ended up in a hospital-like room with dirty shared kitchens, showers, and toilets at Sparta International, one of LU Accommodations housing complexes for international students. "I remember walking around the corridor and seeing the dirty kitchen, showers, and toilets, and sitting down on my bed, I said: Oh no!" Dain tells Lundagård.
I refrained from showering when I lived there.
The Video footage of housing at LU Accommodation on YouTube did not represent what the interviewed students were provided with. Dain describes his confusion when he arrived at his room, and that it was completely different from the videos. He explains his confusion, "When choosing Sparta International based on information available on the internet, it seemed like a nice place."
Dain was not the only one being negatively surprised when he moved to Sparta International. Students here are dealing with electricity problems, mold, and water leaks – something Lundagård confirmed when visiting the premises. 
Dain tells Lundagård that there are constant blackouts, and that there has been black mold in the drain of the showers. "I refrained from showering when I lived there." 
Sparta International is not the only place with problems. In a survey by Lundagård, students living at LU Accommodation have commented mostly on the poor housing condition: "Please start deep cleansing the entire accommodation before allowing a brand-new semester of students to move in," "Physical condition of rooms is always worse than promised," "There is no common area to hang out with other students", were among the answers given in the survey. 
LU Accommodation receives thousands of error reports yearly. The number of reports for 2021 was 2 676, and in 2017–2020, the number varied from 3 000 to 4 000.
Nikolas Pieta Theofanous, head of LU Accommodation, tells Lundagård that the organization does not own any of their housing properties since universities cannot own living spaces in Sweden. LU Accommodation, which is a part of Lund University, must therefore rent their rooms from private landlords.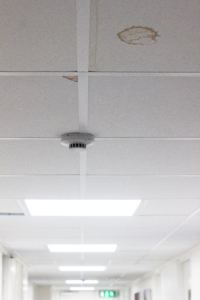 According to their website, LU Accommodation manages one housing location in Malmö, two in Helsinborg, and twelve in Lund. Nikolas Pieta Theofanous says that they are a staff of fifteen people, including administrative and maintenance workers. They manage housing for 1100 tenants, consisting of international students and researchers.
In the survey Lundagård conducted on international students' experience with LU Accommodation, the participants were allowed to chose what problems were the most serious. The following two problems received the highest votes from the respondents, who could choose multiple answers: The price (61,4%) and the physical condition of the building in which they lived (45,5%).
Saanidhay*, a Master's student and LU Accommodation tenant, was surprised to hear that students at other housings provided by LU Accommodation – like Sparta International – pay 4 300 SEK for a room with all amenities shared, "I pay around 4 800 SEK for a studio apartment in Östra Torn with everything included."
The survey and the interviews give an impression of inconsistency within LU Accommodation regarding housing quality and fees. Among 44 participants of the survey, 43% live in a corridor and complain about the maintenance and the price of housing. Half of all survey participants reside in an apartment and object to the price without mentioning housing conditions. 
The price range at LU Accommodation varies between 3 317–4 803 SEK for corridor rooms and 4 706–6 478 SEK for one-person apartments, all fully furnished. Most of the inconsistencies in rent is observed among corridor rooms. A room with a toilet costs
3 317–3 425 SEK in their corridors at Michael Hansen, whereas a room with no bathroom and shower costs 3 820–4 139 SEK at Margaretavägen. 
When explaining the difference in prices and amenities provided, Nikolas Pieta Theofanous draws attention to the fact that housing is rented from various property owners on different terms. Thus, they cannot optimise the price or offer the same comfort level. They furnish all housing and put 10–15% on top of the cost for renting it out. 
Housing guarantee is how they win over people because one can be left without a home or be scammed by fake landlords when moving to Sweden.
Although he is happy with his apartment, Saanidhay mentions how the rooms are furnitured different, despite being part of the same corridor and paying the same rent. Being a tall person, he has to squeeze into a narrow bed every night, whereas his neighbor has a bigger and more comfortable bed.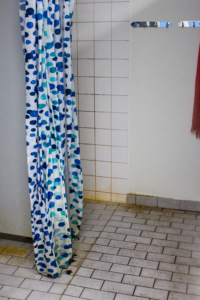 When asked about furniture, Nikolas Pieta Theofanous mentions that the organization does not renew the furniture until it is broken or unusable. He says, "If the bed works and we deem that this is functional, we will not change it. We have no possibility to have 1 100 furnished apartments and go and test every bed in a way you [the tenants, editor's note] ask for."
The interviewed students mention that the advantage of LU Accommodation is that it is a guarantee of housing if you are not an EU citizen. Liza Rosado-Rodriguez, another master's student staying in a studio apartment in Malmö provided by LU Accommodation, agrees. "Housing guarantee is how they win over people because one can be left without a home or be scammed by fake landlords when moving to Sweden." she tells Lundagård.
Living options in Sweden are not specified clearly to international students, and many  find that out later when they start looking for housing other than LU Accommodation. To get a first-hand contract through a Swedish municipal or private housing company, you need to be in a housing queue. To sign up for one, you most often must have a personnummer, a social security number that makes everything from gym subscription to opening a bank account accessible for a non-Swedish citizen.
Getting a personnummer is another time-consuming experience, something which Lundagård has reported on in issue number 8 2020. Students who apply for a personnummer receive it a month later on average, and also risk getting rejected and having to restart the process. 
This means that leaving LU Accommodation is hardly an option for international students. Swedish rental law further hampers their ability to find a new living, since all of the residential area contracts at LU Accommodation demand two months' notice. Unlike students from Sweden, international students more often than not lack a place to stay between housing – such as the family home – and most housing ask that you move in a month after applying to live there.
Moving to a new home therefore becomes an economic liability for many international students, because you have to pay two rents. This came as a surprise for Dain, which preferred to pay two rents instead of staying at LU Accommodation.  "For a long time, I could not find a place available in two months. I had to move to a new place and pay for the corridor room and current housing because I could not stand to stay there anymore." 
Nikolas Pieta Theofanous explains that there is nothing wrong with two months' notice, "According to rental law in Sweden, the cancellation period is three full calendar months. Other companies have one month. It is up to the company to decide. That is what we have, and we don't plan to change, for the moment at least." 
We don't know our rights or how the system works. We do not have a place to go or relatives to turn to. This is how they use it against us.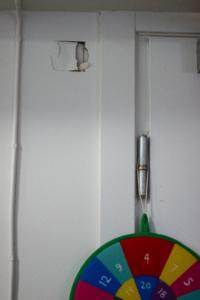 He also showed Lundagård a survey that LU Accommodation had conducted. It showed that Sparta International had the lowest satisfaction rate at 35%. He explained that it was because of factors outside of their control. "In 2021, in the fall, we had electrical failures, leaks from the ceiling, and many negative things happened that we couldn't control". In some cases, like with Michael Hansen, rates were also low, but Nikolas Theofanous could not explain why.
Before going our separate ways, Dain added, "We don't know our rights or how the system works. We do not have a place to go or relatives to turn to. This is how they use it against us." When asked about his decision to move to a new place at the expense of 2 months' rent, Dain says proudly that he has no regrets. 
About the survey
44 tenants at LU Accommodation answered the survey.
They were asked:
– Whether they are a student at Lund University, what city they reside in and if they live at LU Accommodation.
– What sort of housing they lived in.
– How they would rate the search for housing, how satisfied they are with their current housing, if they are satisfied with the pricing and what they would change if they could.
*Dain and Saanidhay only wanted their first names in the article. 
**The article was first published in the printed issue, nr. 3 2022.