Lundagård continues the count down until Christmas. On the 15th day of December we meet Anna Szabó, 22, from Budapest who comes from a family where fish soup is very important.
Name: Anna Szabó
Age: 22 years
From: Budapest, Hungary
Studies: Master's programme in European Affairs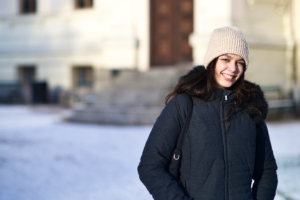 This is your first semester in Lund, what do you like most about being here?
– I'm from a big city so I thought I would be bored here, but I'm not! That's my favourite thing about Lund, it's such a small city but you can do so much so I'm not bored.
What is your opinion on Christmas?
– I really like Christmas. It's my favourite holiday, especially now when I am studying abroad as this is the time when I can go home again and meet my family in Hungary.
Do you have any Hungarian Christmas traditions?
–We always eat fish on the 24th. Especially in my family, it's very important to eat fish soup.
Why?
– Back in the days, during the Soviet era, my grandfather won a national competition for his fish soup recipe. The prize was to go to a Western country and that was the first time that he was able to do that. So, in our family it's a very big deal do make his recipe every single Christmas.
What's your favourite Christmas tradition, except for the fish soup?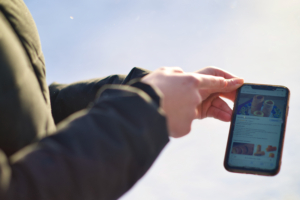 – We usually make "chimney cake", which is a round cake with cinnamon. You can go to the Christmas market and buy one and eat it while you tear it down in a spiral. It's warm so you can heat up when you're at the market.
What is the worst Christmas present you have ever received?
– My parents once got me a flute because they really wanted me to play an instrument. I remember that I cried the entire Christmas night because I didn't want to get another extracurricular thing.