A new organization to tackle the climate crisis has emerged. They are called Extinction Rebellion and they want to raise awareness of climate change – one rebellion at a time. Lundagård has met with two active students to understand the reasons behind their actions in Lund.
As with tradition in January new international students are greeted with a welcoming event: The Student Association Fair inside AF-Borgen. The building is crowded with students, organizations, Nations, and local communities are offering treats or musical performances. Suddenly, a scream breaks through the air.
"We're dying!" in an instant, half of the crowd collapses to the ground. Somewhere on the stage, a group of activists hijacks the microphone: "Our planet is dying! Our species are dying! We are dying!" They are the Extinction Rebellion and they are at the event to bring awareness of the mass extinction happening around the world into our everyday life by civil disobedience.
Early in March this year, Extinction Rebellion held another action by blocking a main road in central Lund. This time, the main focus was fossil fuels. Some 80 activists blocked a crossing close to the Botanical Garden, forcing incoming cars to halt before finally ushered away by the police.
Extinction rebellion is a newly started organization to tackle the climate crisis. To this point, there are roughly 320 groups worldwide. There is no official count in Lund, because they don't have membership, but they have had around 90 people involved in several events.
Francisco Montaño, a first year Master's student in Human Ecology, explains that the grassroot organization began in October 2018 in the United Kingdom and quickly spread across Europe. Francisco Montaño realized the extent of climate issues when he was working in Mexico. "When I started realizing the extent of the climate problem, I just had to raise awareness to political action for these things." He believes that it is imperative to frame climate crisis as a social crisis, as social inequalities are closely tied to the ecological crisis.
Rike Weber, a second year Master's student from Germany studying Aquatic Ecology, comments: "We are rebelling against the non-acting governments all around the globe. We want this crisis to be seen as an existential crisis and to be targeted as the most important issue that we're facing right now".
Rike Weber says she has always been involved environment-related organizations in school, but many organizations felt limited. "For me, focusing on limiting food waste or recycling is not enough. It's not tackling this huge crisis that we're facing right now." Therefore, Extinction Rebellion recommends civil disobedience. "In history, in order to bring change within the system, there needs to be three and a half percent of the population of that country going on the streets [to demonstrate] for change to happen." But Rike Weber also elaborate on what civil disobedience means: "The point is not to cause danger or harm, but to bring awareness by disrupting normal life."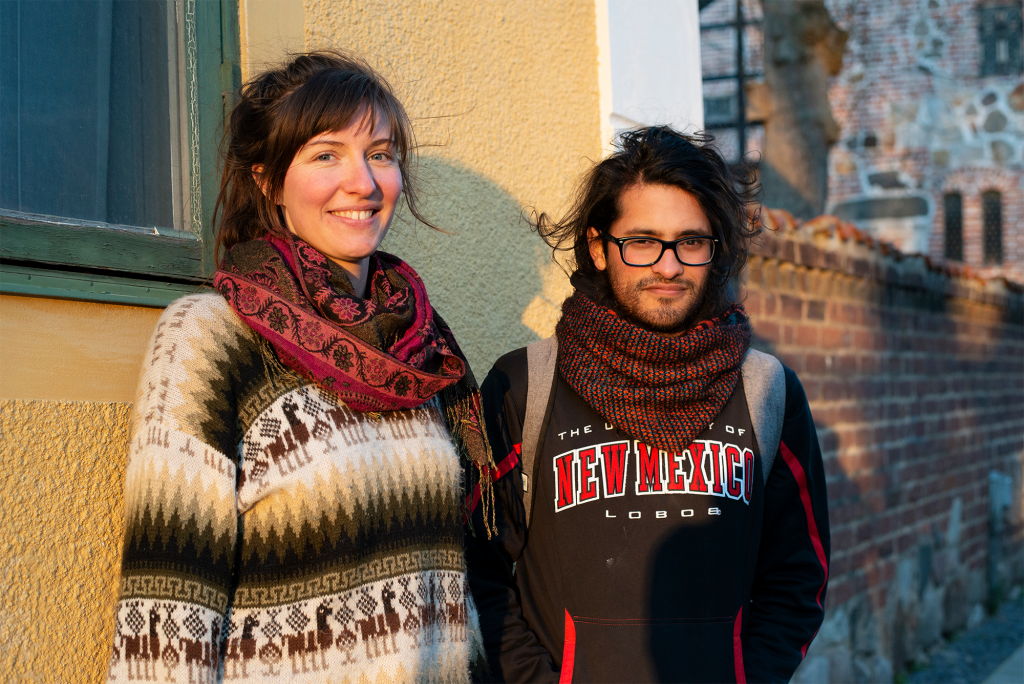 As for getting involved, Rike Weber and Francisco Montaño stressed that the climate crisis is everyone's fight. "There's a lot of spectrum of things you can do. You don't have to do civil disobedience, or get arrested", says Rike Weber. She argues that anyone can come up with creative ways to create awareness, such as street art, playing music, or creating art pieces.
According to Francisco Montaño and Rike Weber, the future looks rather bleak. Francisco Montaño says he is inspired by a poem: "On the last day of the world. I would want to plant a tree." He reassures that it is okay to feel grief when you realize how bad the future is going to be. Because it is only after acknowledging that there is a crisis, that we can start acting like it matters. "Even though we're not sure if this will help." He adds "We need to act as if we wanted to [change the world]. Maybe then we will have progress."