Sweden is a country with many strange, beautiful and fun holidays. Lundagård's Sarah Tavakol has made a list of some of her favorites for all new and old international students to enjoy.
Sweden has one of the highest numbers of official holidays in Europe. Some include classic globally celebrated holidays such as Christmas, while others are more secular such as Midsummer. Sweden even has certain days dedicated to specific foods, like cinnamon buns and waffles! Lundagård presents a quick tour through the Swedish calendar, packed with celebrations and traditions for all new novisches hailing from abroad. 
Note that not all these celebrations are public holidays, and not all holidays are included.
Lucia
– 13 December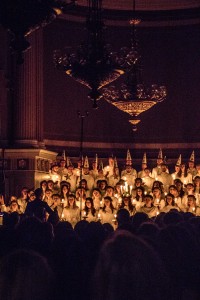 The yearly lighted Lucia parade on December 13 is one of the more striking Swedish traditions, where girls and boys are dressed in white full-length gowns, carrying candles and singing together in the dark.
Lucia honours the death of the martyr St Lucia of Syracuse, with a girl at the front of the procession carrying a candle wreath and a crimson ribbon around her waist, symbolizing St Lucia's bleeding wounds. Despite the eerie singing in the dark with candles and a fake wound, Lucia remains one of Sweden's most important cultural traditions. But it's mostly a day to film your children singing in costumes, enjoying saffron buns (lussekatter), shaped like curled-up cats with raisin eyes, and glögg (mulled wine). It wouldn't be an important Swedish cultural tradition without fika (cake break). I know I can't resist!
Sportlov (Sports Break)
– between weeks 7-10 each year
Yes, Swedes literally have a sports break, where Swedes often take a week off to go skiing. Luxurious, right? The origins of sportlov go back to World War II when it was too expensive to heat the country's schools in the coldest month of the year (usually February) due to Sweden's energy crisis, so schoolchildren got a week off. 
The tradition continued post-war when people realized that children having a week off reduced the spread of colds and flu. Today, Swedes keep the tradition going, despite available heating, to drink hot chocolate on crowded ski slopes. This holiday obviously can't be abandoned! 
Unfortunately the holiday is not extended to university students. 
Våffeldagen
(Waffle Day) – 25 March 
This day is one amongst many others where Swedes celebrate a treat (or most likely their sweet tooth). 
On våffeldagen, the clover- or heart-shaped treats are eaten everywhere, filled with jam and cream. The origins, however, stem from the word vårfrudagen, meaning Our Lady's Day, and is known as the day when Mary was told she would be bearing God's son. So, nothing to do with waffles really. The word vårfrudagen was fortunately distorted into våffeldagen and became Sweden's excuse to dedicate a day to eating waffles. Not a bad word-of-mouth mistake in my opinion. 
Valborg (Walpurgis Eve/Night)
– 30 April 
Valborg, also known as Walpurgis Night, was once an old tradition to scare away witches and bad spirits by lighting big bonfires for protection. Today, Valborg is about celebrating that spring has finally arrived, with picnics, grilling, and a traditional bonfire, known as a majbrasa, at night.
In Lund, Valborg is known as Siste April where the city park Stadsparken is often the main location of the celebrations. In Lund as well as Uppsala, we university students tend to claim this celebration and overrun every corner of the city to celebrate. Your intoxicated classmate most likely couldn't tell you where Valborg stems from but celebrates it anyways.
Do not limit yourself to Valborg, but celebrate Kvalborg, Skvalborg, and Finalborg too, i.e. days leading up to Valborg and a final day to finish off the celebrations.
Midsommar (Midsummer)
– nearest Friday to midsummer's day
Midsommar is not just a folk horror film. This holiday is celebrated near the summer solstice, the longest day of the year.
Midsummer is one of Sweden's largest celebrations, where friends and family gather. Midsommarafton or Midsummer's Eve is the main event, while dancing around maypoles, singing, eating, and drinking large amounts throughout the day. The goal by the end of the day is to sing as incoherently as possible and still have your wildflower decorated head-crown in place.
It's also vital to remember putting seven different types of flowers under your pillow so you can dream about the person you'll marry!