"Dark" and "brooding" are adjectives usually reserved for the Caped Crusader – never "underwhelming". Lundagård's Linn Larsson watched The Batman and finds that it, despite a star-studded cast, fell flat.
Title: The Batman
Director: Matt Reeves
In cinema premiere: March 2nd
Language: English
Runtime: 2h 56m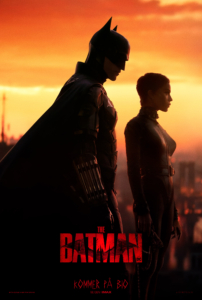 Neo-noir and gritty are words probably used to describe this movie at the same frequency as parallels are drawn to the genre predecessors Seven and Zodiac. These attributes, which are all accurate, have been applied to established stories from the DC Comics, and the result is The Batman. Despite promising prerequisites, the story ultimately fell flat.
Nihilistic Bruce Wayne has spent two years trying to find purpose by fighting petty crimes in a Gotham worthy of its name. A week past Halloween the mayor is brutally murdered and left at the crime scene is a ciphered message to the Batman, courtesy of the Riddler (Paul Dano). This incel-online-manifesto-creep is determined to expose injustice by systematically killing the corrupt elite – "No more lies!".
Batman joins in on the investigation acting as some type of sidekick to police commissioner James Gordon (Jeffrey Wright) which is heavily questioned by the department employees, and rightfully so. This is one of the senseless elements undermining the film's claim for a realistic take on the Batman comics, incorporated through commentary on various contemporary social issues.
The prominent townsmen accused of said corruption are all connected to the Gotham City criminals, whose operation revolves around a new drug on the streets called "drops". John Turturro portrays the gangster Carmine Falcone and Colin Farrell is unrecognizable as the mobster Oz, nicknamed the Penguin. Their performances are lamely caricatural versions of any famous Italian gangster ever, particularly the Penguin. Also entangled in this mess is Catwoman aka Selina Kyle, played by our favorite nepotism baby Zoë Kravitz and per usual she embodies the essence of coolness.
Batman and Catwoman cannot help but to interfere in each other's business as they both oppose the bad guys. Chemistry between actors is a delicate thing, enchanting if present but devastating if absent. In this case it is definitely there – "the bat and the cat" seems to share more than troubled childhoods – and it vows for more to come in the sequels.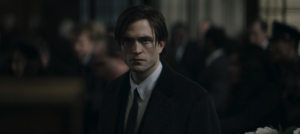 Robert Pattinsson being announced as the Batman caused as much controversy as one can imagine, and unsurprisingly most of it came from Twilight haters (have they ever even watched the franchise?). After portraying Edward Cullen, he has continued to pursue quirky roles which have led him to indie projects like High Life and The Lighthouse. I however pride myself with believing in him since 2008, and no, I will not comment on whether it had anything to do with his acting skills. My fellow Twilight girlies can rest assured that Robert Pattinson makes a more than worthy Batman and the most interesting Bruce Wayne yet.
Cinematographer Graig Fraiser capably handles the wide range of scenes, often with a close-up focus and a short depth of field creating a bokeh effect in the background. Most remarkable is the camera work of a slow-motion sequence which plays with the momentum of a car crash, resembling the famous spinning room-effect in Inception. The obscure cinematography is perfectly entwined with the ominous soundtrack, and Nirvana's Something In the Way complements emo Bruce Wayne so well it could have been part of composer Michael Giacchino's original score. (Also, take a moment to appreciate the campy song titles.)
As Matt Reeves is the director, co-writer and producer, co-writer of The Batman, I cannot blame anyone else for its shortcomings. He had an impressive vision, and the production is ambitious, but oh so disappointing. A movie of this scope, both given the runtime and the cast, should be nothing short of overwhelming. It is not outright bad but sadly rather unengaging from beginning to end, and I have a lot to say about the anticlimactic ending, but unfortunately spoilers are usually frowned upon.
The Batman is a sign of the times, but maybe a little too much so. Post (?) pandemic and during a full-blown war is an unfortunate time to release a fictional movie depicting any type of catastrophe or hardship – nothing is currently as terrifying as reality. My wish to be terrified was not fulfilled, not even by the amazing Paul Dano who I am confident made the most of the material provided. Frankly I prefer him in Prisoners, Zoë Kravitz in High Fidelity, and Robert Pattinson in Good Time, where their talents are made justice thanks to solid plots.
Is it worth the watch nevertheless? Yes. If only to get blessed by Robert Pattinson's impeccable performance. Matt Reeves, if you are reading this: Please devote more screen time to emo Bruce Wayne in the future. Thanks!