Reflecting several sides of the 2019 protests in Hong Kong, the documentary "Revolution of Our Times'' by Kiwi Chow is well renowned. The eminent film is now getting its world wide release and will be shown in Malmö next week.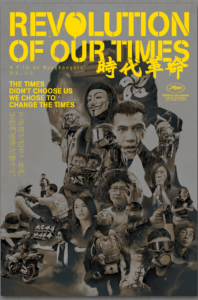 In 2019 Hong Kong turned into a revolutionary battlefield when China tried to strengthen their influence on the city. For months, thousands of people went on the streets to demonstrate against the "Extradition Bill", which would have strengthened China's grip on Hong Kong and cut down its autonomy. 
To make the movement more resistant to the omnipresent Chinese Regime, the demonstrators developed a whole new structure of civil disobedience, inspiring people around the globe. 
One of Hong Kong's most renowned contemporary filmmakers, Kiwi Chow, documented the protest. By integrating different stories into a unique portrait of the protest movement, he manages to draw an intimate yet shocking picture of their struggles during the protest.
The movie follows seven groups contributing to the protest in their individual ways. The footage has been gathered from several different sources, displaying the violence the protesters faced but also their creativity in response to this violence. Few of the many contributors to the movie are named, as they still live in fear of the Chinese authorities until today. Therefore, the audience sees many of the faces only behind masks, and according to the producers, it is not clear where some of the contributors are today. Some faced imprisonment; others left their home for exile. 
The documentary "Revolution of Our Times" premiered last year during the Cannes Movie Festival and got critical acclaim. As of March 2022, it has only been commercially screened in Taiwan where even the president, Tsai Ing-wen (蔡英文) promotes watching the movie. On her Instagram account one can read that "Hong Kong's experience tells us that democracy and freedom are the values we adhere to and are the greatest consensus of the society."  
Kiwi Chow reached out to volunteers to help with the global release of the movie in the period from 1st to 10th of April, 2022. The Taiwanese podcaster David Liu connected a group of Hong Kong and Taiwanese citizens living in Lund and Malmö, who are organising  a screening of the documentary next week in Malmö. This is only one of four screenings of the documentary in Sweden and will be followed by a discussion with people who have been involved in the protest three years ago in Hong Kong.
The group says that they hope the movie will "arouse the concerns about the current situation of democracy in Asia. Especially when we look in the direction of Taiwan, which faces the same opponent and lives in fear of being the Hong Kong of tomorrow."
The movie will be screened on the 6th of April at Panora Cinema in Malmö at 5 pm.