Lundagård paid a visit to some of the bars around the festivities and found: Their preparedness paid off, and despite being busy, the staff seems to be having a lot of fun.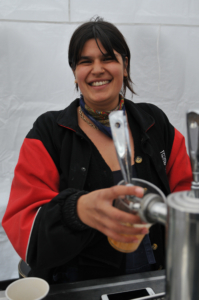 The focus of the Karneval weekend is set on Lundagård and its transformation into a tent town in the heart of Lund. But not only has the park changed; the streets has changed with it.
This is as all the bars and pubs join the festivities and prepare for the weekend as well. Many restaurants, such as Ariman, offer special takeaway food and wanted to offer food they could "serve fast but which is still tasty", according to Arimans manager Malva-Lo Rokka. The restaurant, therefore, set up two tents on the street to welcome the never-ending stream of visitors.
"I ordered twice as much beer than normal," says Malva-Lo Rokka when asked about the preparations for the Karneval. And, of course, she was not alone in doing so: At Inferno, the cellar was stocked up to keep up with the customer's thirst.
John Scott's even organised a special event which is all about a locally brewed beer. "The brewery is here to premiere their newest beer at our establishment", John Scott's manager says proudly.
For Ram Sabri, who works at Inferno, the weekend is special to him as "the carnival brings a lot of people. Especially after COVID during which there has not been much activity, this is really positive."
Some bars were too busy this festive weekend. When approaching some of the them, Lundagårds request for an interview was declined simply because there is no time for a break today.
But in the bars and pubs who could spare some minutes, all agree that the expectations about the Karneval weekend have been matched. While the team of John Scott's enjoys the student games and scavenger hunts entering the bar, Malva-Lo Rokka from Ariman is excited about seeing old regulars "because you met a lot of old friends and everybody is gathered." Ram Sabri at Inferno, meanwhile, experiences a shift in clientele as it is invaded by students until four in the morning instead of the normal beer-loving crowd of a more aged generation.
The most used word during the short visits by Lundagård to the bars, however, is "FUN".