Is there a formula for the perfect song at Melodifestivalen, who will win Melodifestivalen this year, and could ChatGPT write a winning song for the Eurovision Song Contest? Lundagård has met Anders Reuter, a researcher in musicology at Lund University, to find out the answers to these questions and more.
The 63rd edition of the annual Melodifestivalen, the Swedish version of the Eurovision Song Contest (ESC), is at full speed. At the time of writing, the four sub-competitions have been held, and the finale is soon to come. 
Anders Reuter is a lecturer and researcher in musicology, his research area being contemporary popular music, or "popular with capital P" as he describes it. When asked about different musical trends in Melodifestivalen, Anders Reuter explains that there has been a shift in what will make up a winning song in Melodifestivalen. 
"I think generally pop music in the Melodifestivalen has been based on melodies and tonality, and chords. Waterloo by ABBA is an example of a more classical type of songwriting", Anders Reuter says. 
This kind of popular music can be traced to the late 90s with popular artists and bands such as Britney Spears and Backstreet Boys. What happened later with popular music in general is that hip-hop became a big influence, which impacted how songs are written and produced. This change includes the usage of different production methods that are more frequently used in hip-hop, and the usage of shorter melodies, or hooks. A hook is a repetition of one or two bars that can be reused throughout the song. According to Anders Reuter, something else that has gained increased focus in Melodifestivalen is a gimmick. 
"A gimmick is an idea that sort of pervades once across all parts of the songs, so that's the production, songwriting, but also the performer and the lyrics. So there's all these factors, these sort of a part of the same story," Anders Reuter explains. 
Anders Reuter also mentions that there is a tendency to play into Eastern European sounds and that these countries generally vote for sounds they know. So to increase the chance of winning, at least according to Anders Reuter, it's probably a good idea to make a song that transcends Western sounds. Anders Reuter explains that Eastern European music uses different scales with different notes, as well as percussive instruments (such as types of drums) that are not often used in the West. 
When asked about examples of songs that show these influences, the names are on the tip of his tongue. "I'm so bad at remembering names", Anders Reuter says with a light chuckle. Together, with some help from Google, we find out that two examples are Alexander Rybak, the Norwegian winner from 2008, and Emmelie DeForest, the Danish winner from 2013. 
I think what's funny or what's interesting in the Eurovision Song Contest is that there are often like surprises.
Today, with more sophisticated digital tools, it is easier to create musical material since it is a different process from traditional songwriting and music production that starts out with paper or tape. Anders Reuter claims that the role of the producer, or the author, becomes more of a controlling or adjusting role. "The craftsmanship or the art is therefore a question of being able to make the material unique through that process", Anders Reuter comments. 
With ChatGPT being a global phenomenon, this interview couldn't be without some questions about it. Anders Reuter was asked if something like ChatGPT could produce a winning song for Melodifestivalen or ESC. He thinks it could go pretty far, because of the production process generally being more digital now than it has been before. When ChatGPT was asked about its own prospects, Lundagård received a humble answer: 
"As an language model, I can certainly help write lyrics and create melody for a song that could potentially be considered for the Eurovision Song Contest. However, it's worth noting that winning Eurovision is about much more than just writing a good song. Factors such as the performance, stage presentation, and the political voting system can also play a significant role in determining the winner of the contest", ChatGPT comments. 
Anders Reuter and ChatGPT were asked what constitutes the formula for the perfect winning song. For Anders Reuter, he mentions the same elements as earlier. 
"Having said that, and this might go against ChatGPT, because I think what's funny or what's interesting in the Eurovision Song Contest is that there are often like surprises, things you can't predict and it's difficult to actually know who's gonna win, at least sometimes there are these big surprises", Anders Reuter comments. 
When asking ChatGPT it turns out that they were not too far off from each other. ChatGPT writes that there is no specific formula for creating a winning song at the Eurovision Song Contest as the contest has evolved over the years and the preferences of the voting public can vary greatly from year to year. However, some elements that ChatGPT identifies are catchy melodies, emotional resonance, performance, lyrics that are relatable or inspiring, and production quality.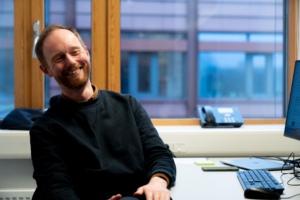 "I am ChatGPT", Anders Reuter says laughingly when hearing its answer. 
Even though it's hard to foresee the winner of Melodifestivalen, Anders Reuter was asked to mention his predictions. Trap hip-hop and EDM (electronic dance music) are fairly loud genres that have been dominating in the past, but there has been a shift with more quiet songs that counter this loudness. Examples that Anders Reuter mentions are "As It Was" with Harry Styles and "Flower" with Miley Cyrus. His prediction is that a fairly quiet and down-to-earth song will probably win this year. 
Later in email correspondence, Anders Reuter predicts that Loreen will win, but that his favorite entry is "Rhythm Of My Show" by Tone Sekelius. It remains to be seen whether Anders Reuter's prediction comes true this Saturday. When ChatCPT was asked about its predictions, it chose to not comment.