Academic freedom is one of the rights clustered into the bigger concept freedom of expression. It includes the possibilities of open and autonomous research and discussion about issues without any interference from political institutions. Nowadays, academic freedom has been questioned and threatened, bringing tragic and concerning results.
Ahmadreza Djalali, 45, is an Iranian researcher, living in Sweden and working for Karolinska Institutet and for the University of Novara, Italy, who has been arrested and sentenced to death in his homeland, accused of corruption.
His family and Amnesty International Sweden, are demanding his release. In an official statement, the leaders of the Royal Swedish Academy of Sciences, condemned Dr Djalali's death sentence as a concerning threat to free and independent research.
This story highlights the ways academic freedom has been restricted in many countries, both democratic and authoritarian ones. Lundagård asked Ulf Johansson Dahre, Senior Lecturer in Social Anthropology at Lund University, about this issue.
"Academic freedom in a country like Sweden means the possibility to be free to research the subject areas you want; it means independence from political institutions and having rights as a researcher. But there are many challenges at the level of university administration, including how its members distribute their funds which can limit certain research areas. That is the reason why in Sweden "Academic Rights Watch" has been founded, an organization composed of scholars which constantly monitors academic freedom and sensitive cases on this issue. Two professors at Lund University are members of this panel that includes academics from major Swedish universities," Ulf Johansson Dahre says.
Sometimes librarians in Lund have to remove exchange students' essays because they have openly criticised their regimes. Ulf Johansson Dahre explains that it is a decision made  for the students' safety.
"When we teach research ethics to our students, we need to remind them of the threats they might face in their homeland. Undemocratic regimes have their own systems to check who is abroad and what these people have been doing."
Scholars find themselves working with colleagues from authoritarian regimes and both the research and the publication processes are impacted by the political context.
"My colleagues and I often work on sensitive local issues for their homelands, such as human rights and democracy. Of course, you need to be really careful when publishing contents not approved by the regime. There are other ways to publish your work but you must be aware that it will never have full exposure," says Ulf Johansson Dahre.
To the questions on why some scholars decide to keep working in non-democratic contexts, he has no doubts.
"It is because they believe that, in the end, the truth will prevail! And this can be accomplished by doing your research work and by being transparent on issues the regime would like to cover up. For a scholar, the search for truth is a moral duty."
Zmicier Vaskovich, 24, is studying a Master programme in Environmental Studies and Sustainability Science at Lund University. He came here on a scholarship with the aim to continue his studies. He took his previous degrees in Belarus to get more background knowledge, he states during our talk on how academic freedom is limited in his homeland.
"It depends on how we understand the word, "limited". We can see that the work of scholars is limited due to the lack of funding for external research and exchange with international universities, especially as a result of language constraints – not many scholars speak English. Moreover, in many cases, there are authorities at the university forbidding you to go to some conferences. So, I guess the problem is that many people in the upper management of educational system are still mentally in the Soviet Union."
Zmicier Vaskovich continues to speak about how students' freedoms are limited.
"Technically, we have student unions, but they don't work as intended and the student representatives are not being elected but appointed. Authorities choose people who are loyal and won't cause trouble. Also, during the meetings, there is no way of voting on regulations or policies for students' freedom because student representatives are in a minority", he says.
"During the lectures," he adds, "you do not discuss politics or criticise the government or university policies. I mean, of course you can do it, but then there have been cases when students were out protesting in the city and ended up being expelled from university or school. The official reason for expelling them was that they didn't fulfil the academic requirements or didn't pass the exams. So that's actually a real issue and it happens quite often especially with some active students".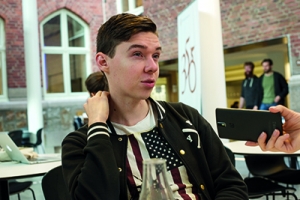 Zmicier Vaskovich comments on how the relations between government and university work.
"I think it depends on the university. Of course, there are universities where you can do many things, however, students and professors never openly criticize the government policies. It doesn't mean that they agree, in many cases they have to go with the flow to keep their jobs. I had professors at my program who openly criticised the government policies and I am grateful for that because it is unusual."
Academic freedom means having access to materials for studies and research, which should include countries like Belarus.
"I never felt that I could not access some information, because we have a lot of independent media working online and there's never been a problem to find other opinions" Zmicier Vaskovich says.
Studying in a country like Sweden brings changes in students' lives in terms of academic freedom and respect for students' rights.
"I feel that as a student I have a lot of rights to defend myself, to be heard, to change the program and to influence the institute and university policies. Here in Sweden I think it's great to be a researcher because there are many different resources and databases and we have connections all over the world," Zmicier Vaskovich says.
He shares what happened to him when the President of Belarus was expected at his university for a conference.
"We were asked to come for a meeting with the person responsible for organising the press conference. The person said that we were chosen for the press conference. Who wouldn't like to ask a question to the President, right? However, everything was planned beforehand. They prepared a list of questions we should ask, and assigned one to every student attending. I said that I did not want to participate in the circus. Now, I think that
I should have gone there and asked what I wanted and looked at the faces of those people who organized the event."