As Autumn turns to Winter, the days get shorter and the weather turns bleak. Swedes have developed a variety of Christmas traditions during the holiday season to fight back against this unpleasantness. Here's Lundagård's guide to a few of them:
Lucia
December 13th is Lucia Day, a modified Christian holiday which celebrates St. Lucia, a young girl who was said to bring food to the persecuted Christians in Rome who were hiding in the catacombs under the city. She would wear candles on her head to leave her hands free to carry more. In the modern Swedish version, Lucia celebrators hold the candles in their hands while on their heads they wear wreaths of lingonberry branches, an evergreen plant symbolising new life in winter. Schools and villages, while celebrating Lucia Day, often pick a young child to play the part of Lucia – traditionally it's been a caucasian girl, but in recent years it has been increasingly common to see children of other ethnic backgrounds, or boys, chosen as Lucia. The celebrations include dressing up in white robes and the aforementioned wreaths and candles, and singing a host of traditional songs, usually in a church or other large, echoey space well suited to choirs.
Lussekatter
Lussekatter are an indispensable Swedish holiday pastry. They're saffron buns, usually in the shape of a reversed S and decorated with a raisin at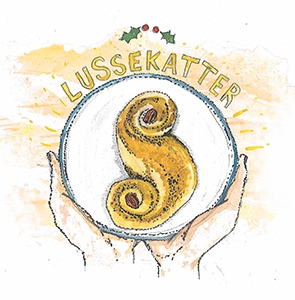 the center of both swirls. They have a distinct yellow color, though beware – this comes from saffron, the world's most expensive spice by weight, and so commercially-produced lussekatter will often be colored with food dyes. The name comes from "Lucia cats," as the pastries typically appear around Lucia and are shaped into forms that resembles cats. Check out sweden.se for a recipe – yes, that's right, of course Sweden's official website includes pastry recipes.
Adventsljusstake
By the time Advent Sunday rolls around, the days are short, with the sun setting by 16:00 even in Sweden's southernmost regions. To combat the darkness, Swedes will put triangular displays of electric candles, called adventsljustakar, in their windows. Usually they're seven candles all lit at the same time, but in a different version there are four candles, and one is lit each Sunday in the lead-up to Christmas. Swedes take their decorating seriously – you'll see these candles in what will seem like
every street-facing window in Lund. You might notice paper stars hanging in the window, as well; these stars symbolize the Star of Bethlehem, and were originally a German tradition.
Glögg
Glögg is Sweden's version of mulled wine; I have no idea where the name came from, but my personal theory is that it's onomatopoeia from the sound one makes when drinking it (before you call this far-fetched, remember that Swedish is the language that calls vegetables "green things"). Glögg is quite similar to other Northern European mulled wine in its preparation: red wine is heated and infused with spices or flavorings such as cardamom, cinnamon, ginger, sugar, cloves, and orange. It's served warm, usually with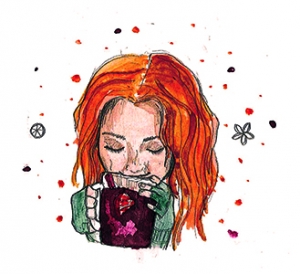 raisins and almonds, and is often paired with lussekatter for a holiday double-whammy of coziness. Seriously – there's no better coziness known to the human race than a steaming mug of glögg and lussekatter, a blanket and an armchair by a window looking out over snow.
Julbord
The Christmas version of the famous Swedish smörgåsbord, the julbord – literally "Christmas table" – is the spread-style meal eaten in the lead-up to Christmas and, most importantly, on Christmas Eve.The julbord consists of a lot of types of foods. There's plenty of fish; typically a few varieties of sill (pickled herring) and lox, accompanied by boiled potatoes and some variety of snaps – small shots of strong liquor, most usually akvavit. You'll also find a variety of meats and cheeses, served cold, the most important of which is the julskinka ("Christmas ham"). The warm dishes include prinskorv (small sausages) and, of course, Swedish meatballs. There's also dopp i grytan – literally "dip in the pot" – which is bread soaked in the stock from the Christmas ham. And the traditional julbord dessert is a rice pudding with cinnamon (risgrynsgröt) in which an almond is hidden; whoever finds the almond is given a little prize.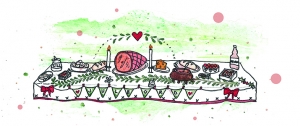 Julmust
Julmust is a soft drink sold only around Christmas (though it's re-branded as Påskmust and sold at Easter). During the holiday season it dominates the soft drink market, accounting for half of the soda sales during this time. The drink was created in 1910 as an alcohol-free alternative to beer, and its hop and malt extracts give it somewhat of a root beer taste.
Kalle Anka
Every year, at 15:00 on December 24th, Sweden comes to a pause; the streets are pedestrian-free, the roads are barren of cars, the stores are empty of people. Where are all the Swedes? They're in front of the TV, watching a cartoon – to be precise, a 1958 Walt Disney Presents Christmas special called, in English, From All Of Us to You but known in Swedish as Kalle Anka och hans vänner önskar God Jul ("Donald Duck and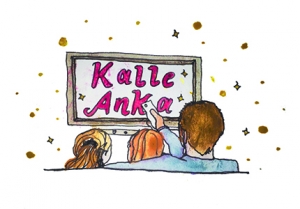 Friends Wish You a Merry Christmas"). The show consists of a series of cartoon vignettes dating from the 1930s to the 1960s, most of which aren't even related to Christmas at all. These clips have remained pretty much the same over the years – there is a mass public outcry each time SVT1, the station that airs them, tries to change them – save for the live introduction from the show's host. The show is a huge part of Swedish Christmas, with 40-50 percent of Sweden's population tuning in each year to watch, and often the Christmas celebrations will be planned around the show, with the julbord before and the arrival of jultomten following it.
Jultomten
Jultomten (also known as simply Tomten) is the Swedish Santa Claus. In most ways he's fairly similar to other permutations of St. Nick, but a little more polite: he comes 'round in the afternoon,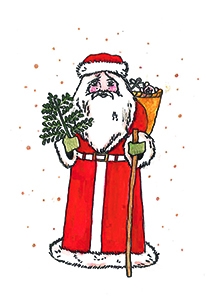 instead of breaking and entering, and no need to worry about charcoal footprints in the house – he comes through the front door, not the chimney. At Swedish Christmas family celebrations an older relative will dress up as Jultomten and ask: "Are there any good children here?" before giving out presents.