Swedish for Immigrants (SFI) is a weekly part of the international experience for many students in Lund. For those who are looking for extra practice or still waiting to be enrolled, local language cafés could be useful. In this article, we take a closer look at what it's like to attend one.
If you are among the many international students who want to know how to say more in Swedish than "hej", "tack", and "bra", you've probably enrolled yourself in SFI — Svenska för invandrare — or Swedish for Immigrants. According to some international students such as Riccardo Biella from Italy, "having access to SFI is a very positive thing about studying here and is a great start to learning the language," but that it doesn't come without its challenges, such as "you don't get to talk so much, and the pace can be kind of slow to make sure everyone catches up before moving on."
According to Skolverket's Official Statistics on Adult Education in SFI (Skolverkets officiella statistik om kommunal vuxenutbildning i SFI) the total number of students enrolled in SFI in Sweden had almost reached 200,000 as of 2016, more than double its total just ten years prior. As interest in SFI grows so rapidly, so does the wait time to begin classes. Narda Thuresson, an international student from Bolivia, told us that she was on a waitlist for five months before starting. Despite increasing wait times, and also for those just looking for some extracurricular practice, there are opportunities nearly every day of the week to practice your Swedish skills at local language cafés – "språkcafé". There are over 19 weekly language cafés in Lund, taking place every day of the week except Friday.
Lundagård attended Café Multilingua, held by The Student Union for Humanities and Theology (HTS). It takes place every Wednesday night in SOL's A Building common area, and features conversation tables for languages from all over the world. When we attended, there were tables for eleven different languages, including two Swedish tables (a beginner and advanced level).
Veronica Giraldo is the organizer of the event. She has been organizing it for over a year and a half and is fluent in four languages herself. She explained that "events like this are important for creating a space for those who are learning and practicing a language, not only in class settings but also with those who are native speakers as well." This particular event is even open to non-students in the area, though you must be part of Studentlund if you want to have the fika. Giraldo said that on average there are around 50 people attending each week, and when we were there, there were between 8-12 of them at the Swedish-speaking table at any given time.
We arrived to the smell of coffee and lots of conversation. The format was casual and participants came and went as they wanted. There were even some switching between several language tables throughout the event. Riccardo comes to practice his Swedish there quite often. "After I started SFI, I wanted something to help me start speaking more since SFI is kind of a big class.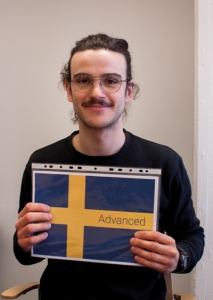 It's really good for learning the grammar, but you don't always get to speak so much," said Riccardo.
He attends SFI, Café Multilingua, and the International Desk's language café on an almost weekly basis. He said, "It's nice that there's usually the same people [at the language cafe]. "Familiar faces are nice so you don't always do the same introductions, but there's usually a new person in the mix. I like that it's an informal setting too. The other one at the International Desk is better from that point of view. The tables are smaller and there is a topic each week to discuss so you can break the ice more easily."
List of language cafés
Monday:
Språk och gemenskap, Filippi, Sandgatan 14 B, from 14.00-17.00
Stadsbiblioteket in Lund, St. Petri Kyrkogata 6, 16.00 in Utsikten
Biblioteket Linero, Linero Torg 14, 16.00-17.00
Tuesday:
IM (Individuell Människohjälp), Vänskapens hus, Bredgatan 19, from 12:30-14:30
Röda korset, Paradisgatan 1, 10.00-12.00
Biblioteket Norra Fäladen, Svenshögsvägen 25, from 15.00-17.00
Erikshjälpen, Öresundsvägen 16, from 10.00-12.00
Sankt Knuts kyrka, Linero Torg 12, from 16.00-18.00
International Desk, Stora Algatan 4, from 17.00-onward
Wednesday:
Café Multilingua, SOL, Helgonabacken 12, from 17.00-19.00
Biblioteket Väster, Örnvägen 66, from 16.00-17.00
Thursday:
IM, Vänskapens hus, Bredgatan 19, at 12:30-15:00
Biblioteket Klostergården, Nordanväg 13, from 16.00-17.00
Sankt Hans kyrka, Fäladstorget 32, from 13:30-15:30
Röda korset, Paradisgatan 1, from 13:30-17.00
Biblioteket Linero, Linero torg 14, 16.00-17.00
Saturday:
EOS-hallen, Arkivgatan 32, 13.00-15.00
Sankt Hans kyrka (Erikshjälpen), St. Södergatan 25, 11.00-13.00
Sunday:
Café Tillsammans, Hemgården, Kiliansgatan 11, from 16.00-19.00