On the 8th of November, Lovette Jallow gave a lecture about structural racism in academia. Lundagård's Chunchu Song attended the event. 
Lovette Jallow is an author and activist against racism. She was born in Gambia and came to Sweden at 11 years old. She was invited by LUNA (Lund's Science Student Union) and WINGS, a network promoting gender balance in academia, to talk about diversity and equality at universities. The lecture was attended by hundreds of students.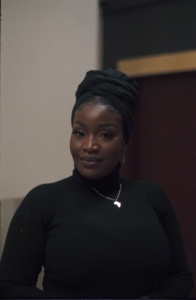 Being an Afro-Swedish woman in a white majority society, her personal experiences of structural racism make it impossible to be indifferent to racial discrimination. She defines "structural racism" as "a pattern of social and political systems that discriminate against a group of people based on the notion of race". 
Lovette Jallow shared her personal story about structural racism in academia and how she fought against it when she was still a student. She decided to leave Sweden after being at Stockholm University for a short time, tired of "the sickening" society that did not represent her. "I love Sweden, but the country does not love me back the same way", she said. She thought that England would be a good place for her, at least according to the proportion of black people there. 
Unfortunately, reality taught her that no country is free from racism. Lovette Jallow raised a personal example. Once in her class at University of the West of England, students received their grade on the final dissertation, on which Lovette Jallow spent abundant time; it turned out that she got only 48%. Ironically, another student whom she tutored got 75%. "All the black students in the class realized that they had been graded a lot less because who was grading us was our least favourite teacher". All the black students made a petition against the unfair grading. The university took back all the dissertations, made them anonymous and asked an independent professor to grade them again. Lovette Jallow's result from the second-round grading was 82%.
There are certain things we all can do against racism inside and outside academia, according to Lovette Jallow. She references social media and states that when one sees a video of a black person being assaulted or murdered, "our first reaction should never be to reshare it, which is a behaviour to desensitize ourselves to black trauma". Instead, one should consider carefully whom they are supporting and how to support them. White people may find it hard to talk about race from a privileged position, but "knowing where you stand, you can use your privilege to open the door for someone else to talk about their experiences", she stated. "It doesn't make sense to have white women who have never experienced racism lecturing racism".
"Make sure you're speaking to the people you genuinely care about, about what you're learning, and don't fear involving. Racism has been here for hundreds of years, so it's time people, do wake up", Lovette Jallow claimed.