Title: Don't Look Up
Director: Adam McKay
In cinema premiere: December 10th
Streaming: December 24th
Language: English
Runtime: 2h 18m
Over a year ago, we got a first look at the ridiculously star-studded cast of Don't Look Up, which has had movie enthusiasts yearning ever since. The apocalypse satire has been met with mixed reviews and Lundagård's Linn Larsson can understand why.
Kate, an astronomy doctoral student at Michigan State University, is monitoring supernovas when she suddenly discovers an enormous comet that is calculated to hit and annihilate the earth in about six months. When herself and her professor are called to the White House to inform about the upcoming disaster, their warning is met with preposterous neglect. Instead, they turn to the media in a desperate attempt to save the world, while the President bargains with a tech billionaire who wants to extract invaluable minerals from the space rock.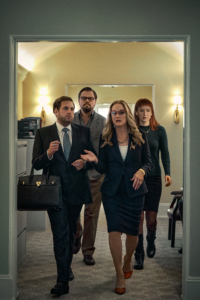 The stellar lineup simply cannot go unmentioned – actors from Hollywood's creme de la creme, all brilliant in their pursuits. After laying low for a few years due to saturating the movie industry with herself (recently referred to as the "Jennifer Lawrence Pipeline"), Jennifer Lawrence returns in the lead as Kate Dibiasky, a PhD candidate whose main characteristic is being a stoner. We get Leonardo DiCaprio as the neurotic professor Dr. Randall Mindy, and of course this comes with a classic freak-out scene.
The antagonists, which are an apparent mocking of republicans, are acted by legends as well; Meryl Streep plays President Orlean who is heavily influenced by Donald Trump, from the public speaking technique to the outright lying. Her douchebag son Jason Orlean, who has got some type of Oedipus complex, is portrayed by the comedic genius Jonah Hill.
Director Adam McKay is behind numerous renowned comedies like Anchorman (2004), Step Brothers (2008), The Big Short (2015) and Vice (2018). Like its predecessors, Don't Look Up is dramatic in its endeavours of amusement. The disastrous scenes are alternated with clips usually found in generic inspirational videos, invoking a feeling of absurdity. The soundtrack is great throughout the film owing to composer Nicholas Britell. Cast members Ariana Grande and Kid Cudi are behind the original song Just Look Up, a propaganda anthem in favour of the scientists (in which Fox News are called out).
Rude, one might think, that Netflix did not at all consider those of us celebrating Christmas on December 24th when they decided to release Don't Look Up that very date. Regardless, I have assessed this movie to be appropriate for a family audience and it is therefore most reasonable to watch it after, or instead of, Donald Duck. Be aware of the risk of unwanted disputes in the case of climate change denying relatives.
Don't Look Up is a blatant commentary of society in general and of the US in particular. Anyone sympathizing with American right-wing politics and lacking in self-distance may have a hard time with this film. At times it is rather a parody than a satire, as the jokes are far sillier than they are smart. I, however, found it hilarious – and you will too, if you agree with the premise of a frivolous yet well produced and very entertaining doomsday comedy.