Lundagård's Kuzey Yanartas was among the crowd of Blacknuss on the first day of the carnival. The band turned out to be a real 'dark horse' for Lundakarnavalen 2022.
Blacknuss was established in Fasching jazz club in Stockholm during the '90s and for many, it is living proof that R&B, soul and reggae music can live and breathe in Scandinavia.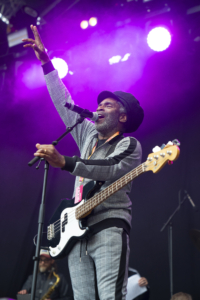 I head towards the media section as I watch people slowly and hesitantly fill the concert area. People walk around not knowing where to stand and what to expect, but the band immediately kills the awkwardness in the air with a groovy warm-up session.
The younger audience moves toward the stage full of energy as the other viewers stand back and wait for the singers of the band to come on stage. The singers make an entrance full of swag and now it is on. They play both their own songs such as "Last night a DJ saved my life" but also some classics that everyone in the crowd seems to know.
"Can I take you to Jamacia?" yells the singer as he starts singing "You Sexy Thing" by Hot Chocolate. At this point, everyone in the crowd are vibing and dancing to the music regardless of their age or whether they like soul music. I am no exception, so I leave the boring media section and join the lively crowd.
The student Laura Mulder is coming out of a dance circle with a big smile on her face. She tells me that she normally listens to pop music. This is her first time watching this band and she got nothing but "happy and positive" vibes from this experience. Later on, I run into the student Abdiaziz Musse in the crowd who is enjoying the music together with his friends. Abdiaziz Musse tells me that he loves R&B music because "it touches his soul", he adds "I wish more people were here".