The Global Policy Research Group held its opening ceremony in Lund last week. Already having produced four policy papers, the group looks ahead to a bright future.
On Thursday the 15th the Global Policy Research Group (GPRG) held its opening ceremony in AF-borgen. It is the first fully independent think-tank in Lund, not connected with the university.
Founded by students connected to the Lund University School of Economics, the thinktank is concerned with policy in all its different forms. The highlight of the event was the presentation of the group's own policy papers Topics ranging from regional resilience to economic crises, Swedish security policy, and disinformation were covered.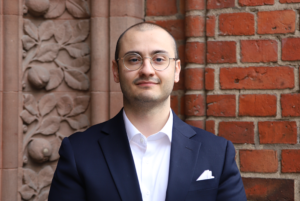 Bahadir Sirin, the president of the group and one of the founding members, said that the goal of the organisation was to create specific policy recommendations with a strict scientific focus.
"What I realised was that [other think tanks] come with very general conclusions. That is something I didn't like. I thought there needs to be more details, and you need to talk about the feasibility of your ideas, and you need to be self-critical."
The organisation is definitely a product of globalisation. One would not have seen a presentation like this a couple of decades ago.
In front of the very international presenters there was a very international crowd. The think tank itself connects people from several different European universities, furthering European cooperation.
English was clearly the dominant language. Bahadir Sirin said he saw it as a strength to have members from all over the world, but also wants to attract more Swedes.
"It goes both ways. I, a hundred percent, want to have more Swedish people on board. People are attracted to [think tanks] outside of Sweden a bit more than perhaps in Lund. We do want to have more people on board, but it's somewhat tricky.", Bahadir Sirin said.
When asked about the think-tank's political leaning, Bahadir Sirin said "Zero. Only thing I really believe in is freedom of opinion. […] People ask me, how can you be a policy institute and be non-political? I am comfortable enough to be able to produce things that align with left, right, centre, as long as they're scientifically solid. We don't have initial preconceived opinions."
The think-tank has high hopes for the future. It is registered as an NGO, instead of a student organisation, in order to not constrain it to the university world. "I want it to become the leading policy institute in the Nordics." Bahadir says.