Idag är det inte bara dags att öppna lucka 18 av Lundagårds julkalender, utan också första dagen av chanukka. Daniel Leviathan, 30, berättar om varför chanukka firas och avslöjar att adventsljusstaken vi ser i alla fönster faktiskt är inspirerad av den judiska nioarmade ljusstaken chanukkia.
Namn: Daniel Leviathan
Ålder: "Strax 31″
Hemort: Stockholm
Studerar:
Är doktorand i judaistik (judiska studier

)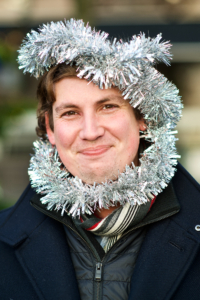 Vad innebär det att fira chanukka?
– Egentligen är det en klassisk berättelse: "Someone tried to kill us. They didn't succeed. We Won. Let's celebrate and eat". En riktigt klassisk judisk högtid. Vi firar att man lyckades vinna mot grekerna, återbefria Jerusalem och återinviga templet. Det gör man bland annat genom att äta oljig, friterad mat. Till exempel sufganijot [syltmunkar, reds. anm.] och latkes [potatisplättar, reds. anm.].
Vad är trevligast med firandet?
– Ljuset! Precis som julen, så är det ljusets högtid. Det handlar om att bringa in ljuset i hemmen i den mörkaste tiden. 
– Vet du storyn bakom adventsljusstaken?
Nej?
– Adventsljusstaken är inspirerad av chanukkia [chanukkaljusstaken, reds. anm.]. Den som tog formen till Sverige och började med adventsljusstake var en tysk, anställd på Philips på typ 20-talet. Han kom [till Sverige, reds. anm.] med en elektrisk adventsljusstake. Han hade bott i Berlin! Han hade sett alla judar ställa fram sina ljusstakar och tända dem, under de åtta dagarna, i fönstret. Chanukka lever på sitt sätt i varenda svensks hem genom adventsljusstaken.
Vad fint! Är det något annat du vill tillägga?
– Chag chanukka ve'chag molad sameach! (Glad chanukka och god jul!)