Finding love in the modern age is a constant struggle. Lundagård's Alexandra Bradley guides you through the jungle that is Tinder: which profile-type is right for you? And who should you avoid?
You'd think a university town with over 30,000 students would make dating easy. However, that's not always the case. Balancing your education and studies with social activities, nation life, sport, the gym, calling your parents, doing your washing etc. does not leave much time for dating.
That's where Tinder comes in! According to a New York Times article from March 2022, Tinder boasts about having 57 million users of which 10 million are active daily in 196 countries around the world, having been translated into 40 languages. After setting up your profile, swiping left or right and engaging in some mediocre chat, it doesn't take long to realise that Tinder takes the quote "Don't judge a book by its cover" and throws it into a burning trash compactor. Certain pictures tend to yield extremely positive results but there is no guarantee for personality.
My own experiences with Tinder were rather pathetic. I deleted the app after 3 days, as I came to the realisation that there were a lot of people who were not my cup of tea.
But fear not. There is hope for a longer stint with Tinder. Fortunately for you, I have surveyed countless Lund University students who have been playing the Tinder game for a lot longer than me and asked them some questions. From these interviews, 5 predominant types of tinder dates emerged.
This article is intended to guide you in seeking out or avoiding these types of archetypes. Who knows, maybe this guide WILL lead you to the profile of your future soulmates profile. Note, all quotes have been taken from real life Lund tinder profiles.
1. The Gym Junkie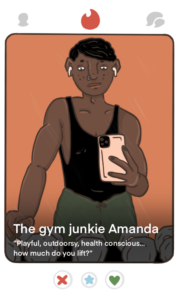 HOW TO IDENTIFY:
Mid-squat at their local CrossFit; running through the finishing gates of a triathlon, flexing in mirror selfies, standing in front of their juicer after having just been to the farmer's market.
BIO:
"Playful, outdoorsy, health conscious…. how much do you lift?"
SWIPE RIGHT IF:
You're a fellow Health Freak. You enjoy marathons, mud runs, rock-climbs you name it. Never skip leg day or love a 6 AM wakeup for a sunrise hike.
2. The Hipster
HOW TO IDENTIFY:
Photos of them brewing kombucha or baking organic sourdough, coffee shots with an alternative non-fiction book in the background, strumming their acoustic guitar, admiring a distant sunrise, any photos with Birkenstocks.
BIO:
Some reference to pop culture, like a quote from the tv-series The Office, to prove they are in the know and have a sense of humour.
SWIPE RIGHT IF:
You like to talk about your emotions over a class of red wine whilst listening to indie music. But prepare for texting with this person for a couple of weeks before they want to meet up.
3. The Triple B: Beautiful But Boring
HOW TO IDENTIFY: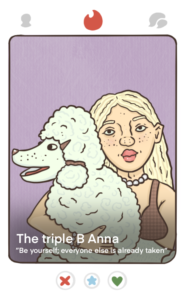 Shirtless beach pics or bikini pics. An image of them smiling with their dog. A wholesome photo with their mum. An action shot of them playing a generic sport like football. And the last photo is always a "silly" one of them with "cool" sunglasses on at a party.
BIO:
A cliched quote about life…."When life gives you lemons, make lemonade"; "Be yourself; everyone else is already taken"
SWIPE RIGHT IF:
You appreciate pretty things to look at. Scripted answers. You don't mind sitting in silence or enjoy being the one to keep the conversation going by asking all the questions.
4. The Cryptic
HOW TO IDENTIFY:
Long distant shot of them admiring a view, selfie taken in the dead of night; group shot taken with more than one person, or worse, multiple group shots. If you feel like you are playing a bad game of "I Spy" then you know you are dealing with a Cryptic.
BIO:
Empty. Not even a location is present.
SWIPE RIGHT IF:
You like to be surprised. The mysterious Cryptic is a person all too common on Tinder. They leave you with more questions than answers. Who are they? What do they look like? Well, here's a hint: If it's a group shot, then it's probably the one you would least expect. Matching with a Cryptic is another story… they usually never message first and will always respond in 3-4 business days.
5. The Party Animal
HOW TO IDENTIFY: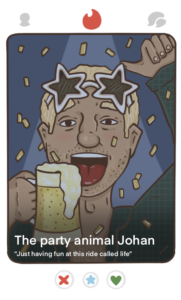 Posing in nightclubs, bars and underground 'raves', a glass of wine or beer in hand in every photo, a rogue video of them dancing, heels, facial hair, bad suits, pick-up artist vibes.
BIO:
"Loves a cheeky margarita" OR "Just having fun on this ride called life!" Pool Party. Vegas. Nightlife. Day Drinking. Good Vibes. Part-time EDM producer, part-time professional poker player.
SWIPE RIGHT IF:
If you want a fun night out partying in Lund, they are almost guaranteed to know the best spot to take you. How long you can last date a hardcore party animal is up to personal preference. Maybe you can match them or maybe you can't!