Welcome to Sweden! Lundagård's Ondrej Gomola writes about some of the things that might be good to know for new exchange students in Lund.
Many international exchange students call Lund home and maybe you are one of them! The same questions and obstacles come up, year after year. Hopefully this brief guide will quell some of those worries and guide you (hah, see what I did there?) towards enjoying your time in Lund more.
Accommodation
Finding a place to live in Lund is a particular challenge, especially if you have no idea how the Swedish system works — it's full of many-syllabled words of housing associations and bizarre queue systems. This may seem threatening at first but is really pretty okay once you get your head around it all.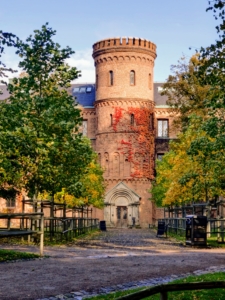 Accommodation in Lund is provided by many companies; international fee-paying students and exchange students can go through the university-managed LU Accommodation. AF Bostäder is one of the biggest housing providers in Lund, along with the student nations. You can find private housing providers through websites such as BoPoolen and even on the Facebook marketplace — although you should beware of scammers (for instance, if there are no pictures of the property and they want a payment upfront). 
This might not be the most relevant if you're already in Lund, but the most practical tip I have heard from talking to exchange students here is to start looking for housing early. It is difficult to find housing in Lund, so the moment you know you're coming, look around, sign up for novisch queues and send in applications. 
Healthcare
Sweden is known for its excellent healthcare and generous state aid, but without the personnummer (personal identification number), some things are more difficult for internationals than for residents (see my article about the personnummer). However, if you need medical treatment, the healthcare services will assign you a temporary personnummer. So, fret not!
In the more everyday sense, you might need to consult your doctor if you have a health issue or there's something on your mind. To do this, you have to call your local healthcare centre, the vårdcentral or 1177, the national healthcare service. There, you will meet a joyous symphony of telephone menus, although an English option is usually present. You are then allotted a call time and the vårdcentral theoretically should call you back. In practice, however, this usually only takes place when you use a Swedish phone number to call in the first place. So here's a tip: when calling your vårdcentral, call from a Swedish phone number. And call in the morning, ideally right after they open. Most aren't open on weekends, either.
The Weather
The meteorological phenomena that accompany life in southern Sweden can be very different to what you are used to if you come from, say, near the Equator. Not so much if you're coming from Belgium or Scotland. The winters here can get quite dark and rather nippy, so warm and waterproof winter clothing is a must. If you don't own a waterproof jacket, procuring yourself a sturdy poncho is a good place to start. There are many outdoor and second-hand shops in Lund where you can find yourself one of these!
Swedish food & drink (culture)
It's rather unlikely that you have moved to Sweden because of its food or culinary culture. There's always France or Italy vying for those kinds of visitors. Swedish cuisine is much like the rest of Scandinavia and Western Europe: lots of potatoes, some fish, rye bread, alcohol. 
Talking about alcohol, though: Sweden's alcohol policies might leave you in for a surprise. The only place to buy booze outside of a restaurant or bar is at Systembolaget stores across the country. System-what? Systembolaget, literally translated to "the system company" is a state-run alcohol monopoly and the only legal point of sale of beverages with over 3.5% alcohol content. Supermarkets are allowed to sell drinks with up to 3.5% alcohol in them, but let me tell you, don't ever buy wine from a Swedish supermarket. Go to Systemet (the short, more colloquial name for Systembolaget) instead. 
But Lund, at least, has a good selection of restaurants and many, many falafel places to fit all culinary needs. Malmö is also just a stone's throw away, so what isn't in Lund, is in Malmö. Or Copenhagen (50 mins away from Lund by train). 
Transport
In Lund, it's very uncommon for students to have cars. Most people, though, own a bicycle which helps you get to basically anywhere in Lund in 15 minutes. Lund is a very cycle-friendly city, with the municipality boasting that just under half of all transport journeys here are done by bicycle. It's easy to get yourself a bike: there's always a Facebook marketplace full of students selling bikes (although the usual caveats apply) and plenty of bicycle shops throughout the city.
It's good to keep in mind that, after sunset, you are required by law to have white front light and a red rear light on your bicycle, along with reflectors. It's also good to have a helmet on you; it can save your life if you get into an accident.
Public transport is also very well managed—you can easily buy tickets through the Skånetrafiken app and travel across the whole region. Prices could be cheaper, but they're not exorbitantly high — I've made countless trips by train and bus across Skåne.  This is a great way to visit all of the places in Skåne that are too far away for a cycle — and I've even written an article about some of my favourite Scanian nature getaways.
Allemansrätten
This is the famous 'Right of Public Access' or the 'Freedom to Roam', giving you the right to go hiking, camping, practice sports and other fun activities anywhere in the country — with the notable exception of private gardens, near a dwelling or land under cultivation. This is superb! You can plonk your tent or bivouac anywhere in Sweden provided you don't break the conditions of the allemansrätten. I could go on but there's a wealth of online resources describing exactly how you ought to behave in nature and where the allemansrätten applies. 
Recycling
You might have already heard of Swedes' obsession with recycling. Well, it's true and it does exist. But that's good, because there's nothing more wasteful than improper waste disposal. In Lund, rubbish is separated into cardboard, paper, plastics, metals, coloured glass, white glass, organic (compost) waste and residual waste. For disposing of bigger appliances or other waste, there are specially-built recycling centres available.
All aluminium drinks cans and most plastic bottles along with some glass ones have a 1 or 2 kr deposit called 'pant'. That's why Swedes collect them separately and then return them at supermarkets. This is a similar system to the German Pfand, and it works wonders.
This article was originally published September 8th 2021.