After years of negligence and mismanagement, student housing Pålsjöäng finally closes down and 172 international students are forced to evacuate. 
Photo: Claudio Gandra
In the heart of the Faculty of Engineering sits Pålsjöäng, affectionately nicknamed as PJ, a studio housing area. It was marketed by Lund Accommodation (LUACC) as "…you will feel as if you are in the middle of the campus with students, bikes, study halls, departments and institutions all around." For many international students who want to be close to their department, PJ is ideal.
But on November 2nd, 172 students received an email telling them that they had to be evacuated by January 2nd 2019.
PJ was built six years ago by housing company Prime Living. The construction was problematic and as a result, throughout the years many tenants have experienced ventilation problems, flooding, and rat invasions.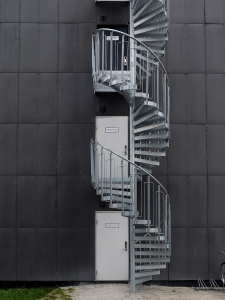 Around March 2018 LUACC reported rats and sanitary issues to the Municipality Environmental Health Administration Agency (MEHAA). Even though there were continuous negotiation with Prime Housing, the housing company is reluctant to help resolve issues regarding their housing apartments. After months of investigation, a decision came from MEHAA to evacuate the building. LUACC now see the problem as so vast that they made a decision evacuate everyone by January 2nd. LUACC spokesperson Ulrika Verngren says: "The building will be closed down during February and we will not allow anyone to rent the apartments again. I strongly believe that this is the right thing to do since health is always high priority for me and Lund University".
Biking from Lux and passing the green fields of the Department of Astronomy and Theoretical Physics, we arrive at PJ and is greeted by a desolate corner stacked with broken, abandoned bikes. The colors of the buildings are grey and black. There are no trees around. Stairs crawling around the outer buildings are made of metal, and our shoes clunk when we walk on it. In the courtyard surrounded by housing complexes, is a dark colored, cargo-like garbage area. On its walls are three big plastic signs: the paper inside stained and ripped by water and dirt – saying "Waste placed outside the container attracts rodents and birds". We didn't find the door into the hallway to the apartments, until Can Yavuz – our interviewee and masters student of International Human Rights Law – opens the door for us.
Now in his second year in Lund, Can Yavuz describes his first year living in PJ as turbulent, but good. Pointing at the crack on his wall, Can Yavuz says: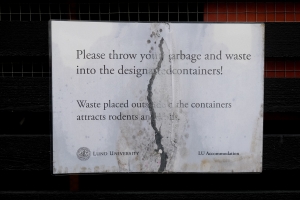 "Even though the condition of the room might not be the best, I had really good neighbors, so that balanced it."
For the evacuation, LUACC has offered a 2000 Swedish crowns as compensation to the students, and an additional 3000 crowns if they move into other housings LUACC provide. But many students were not happy about the arrangement, and some has voiced dissatisfaction with the way LUACC handled the situation. Samuel, here for his masters in Engineering, comments: "We were offered a compensation of 2000 crowns, but that amount out of all this trouble is not a great compensation. They could at least give us a month of rent back." Ulrika Verngren comments that for the majority students moving home or moving out to other housings, they have gotten their compensations. The students moving into other LUACC housings get higher compensations to cover for higher living costs than they would've had at PJ.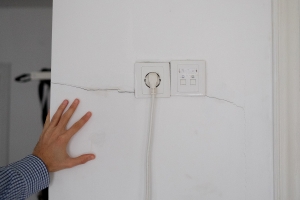 Samuel also says that the housing options LUACC provided are far away from central Lund and are mostly corridors. "I picked PJ because I wanted to live in a studio. Above all, we only get the 3000 crowns if we take another LUACC housing."
For months LUACC had known about the rat problem, yet PJ was still advertised and arranged to have new students moving in. Can Yavuz says: "Why do you let people live here if you know this place is problematic?"
According Ulrika Verngren finding studio flats in Lund is a big problem, and they had to make sure everyone gets housings. "We have 200 studio flats in PJ, some are empty rooms due to water damage, but 20 studio flats have already been evacuated." She also says that so far they have successfully relocated 100 international students in other LUACC housings: "Of all the students living there, half of them return home around Christmas. The rest of the students are moving as soon as the apartment are available."
For now, Can Yavuz's attempt at finding private housing has been unfruitful, and he will be continuing with LUACC. As for the new students coming next year, LUACC is shutting down the dorm in February, but they have managed to find new housings for students.
He also voices his opinion on LUACC's handling of PJ's international students: "If I lived here for six months, maybe I wouldn't care about this housing situation this much. For me, even though I have no Swedish skills, I can make my research, I can use my network and learn what the laws are. For the majority of students this situation is very burdensome. You'll take whatever they give you. In my opinion, LUACC takes advantage of us in this slightly discriminative way."
Can Yavuz comments that "Pragmatically speaking, the handling of LUACC could potentially also be bad public reputation for Lund University. If an international student sees how badly this issue is handled by the school online, they might decide to go to another university." Ulrika Verngren remarks that "We sympathize with the students, but it has to be done because we couldn't risk students living in studio flats with potential health hazards."
LUACC is following Swedish laws and have started legal discussions with the property owner.
Footnotes: Lundagård has contacted Prime Living for a comment. 
"Samuel" wishes to be anonymous.