Page 28, Sweden's only LGBTQ+ bookstore, celebrated their grand re-opening last weekend from the 7-9th at their new premises in Malmö. Lundagård sat down with Lou Mattei, one of the organisation's founders and current chairperson, to discover what this new space means for the future of the non-profit and, by extension the local LGBTQ+ community.
Page 28 began as an idea that Lou Mattei moulded and formed with her co-founders in early 2020. During this time, with little-to-no funding, they ran pop-up events at local cafés and bars in Malmo. Due to the pandemic, however, it was hard to get the word out.
Over time, with the use of social media and the persistent showing up for the LGBTQ+ community, the Page 28 team has managed to set up shop a stone's throw away from Folkets Park in central Malmö. With queues of people waiting up to an hour outside in the cold (due to the new covid restrictions) over the weekend for the grand re-opening, it is clear that the organisation has grown in both size and popularity.
When asked about how she feels about the new space Lou Mattei exclaims "there's a whole other freedom that we didn't have before, which feels super exciting." Previously, the team would roll a converted wardrobe to events from where they sold books and connected with the local community. Physically, this was very demanding and Lou Mattei assures that her team are relieved that it now has a permanent home!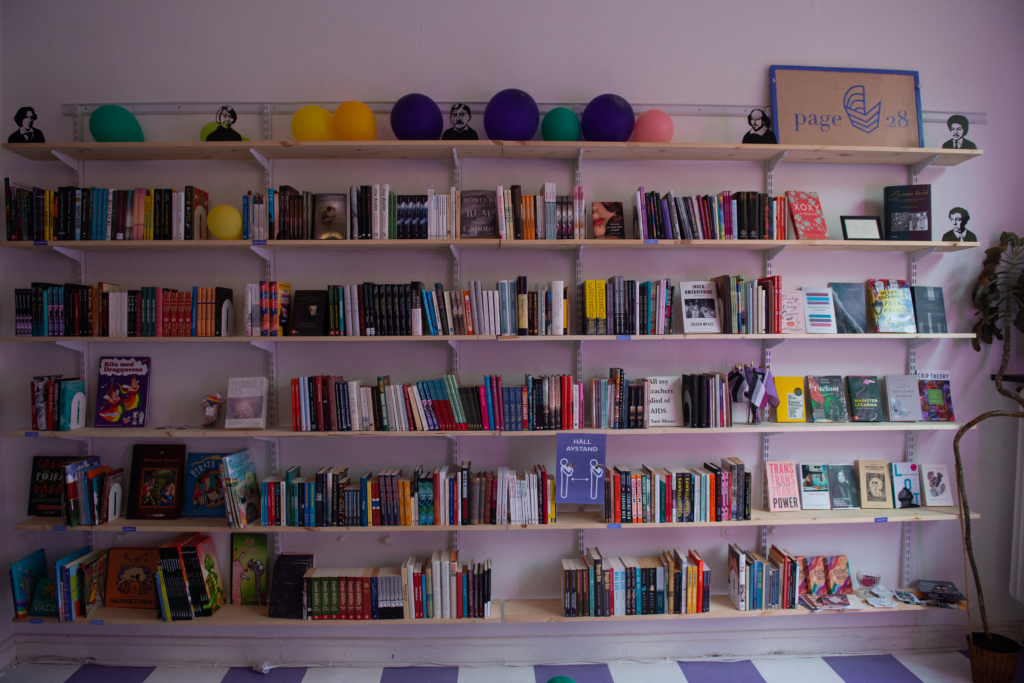 "So I really want the space to feel alive and creative and, like, bursting with people's feelings. And I wanted to feel, like, it is serving the community because I think what Page 28 will do is entirely based on who is involved, what they want to do and what they think is important." Lou Mattei explains. 
When visitors to the Page 28 open event on Sunday were asked what the store means to them, it was clear that the organisation represents a safe space that is wanted and needed by the LGBTQ+ community. Lou Mattei passionately reveals that 'For me, it was always more than just a bookstore. I always wanted it to be a place where people can come and hang out and feel safe and get to know each other and talk about culture and talk about literature and art and everything".
For this very reason, she explains, Page 28's mission is not to educate those outside of the LGBTQ+ community. "This is by and for queer people…But if you're interested, of course, come and take part in it, because we want to…spread queer culture, celebrate it!".
Lou Mattei adds "I think literature in itself can be so educating. You should be able to come to page 28 and not know what asexuality or, like, trans issues are. And then you should find a book about it, you can go home, and you can read it, and then you can come back and discuss it, and you can learn more about it."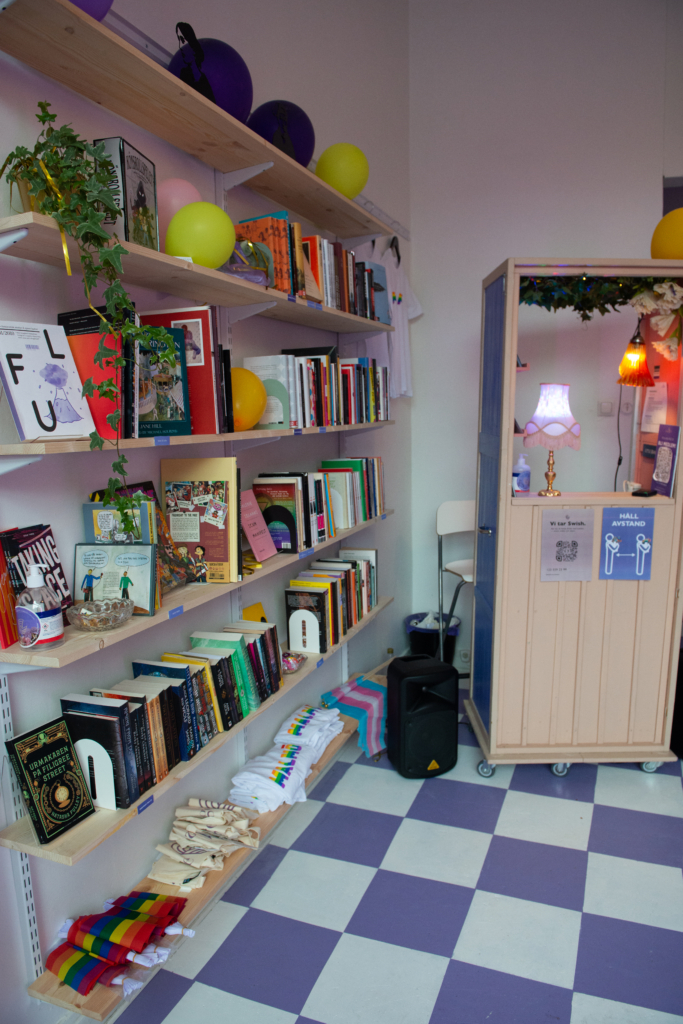 When thrown some quick-fire scenarios of potential customers who could walk in and the book she would recommend them and why, Lou smiles and enthusiastically complies. From those struggling with cultural and/or religious doctrines when coming to terms with personal sexuality, to parents looking for books for their toddlers, she had an answer for every person no matter what their personal relationship to the LGBTQ+ community was.
Following this, Lou emphasises that for people who are nervous visiting to "just know that nobody's gonna question that you're there, nobody's gonna ask why, nobody's gonna make you like, perform some type of queer identity." Proudly, she explains that her team are attentive to everyone's needs whether that be giving recommendations, having a chat or just leaving you to browse the shelves in peace. She jokingly shares that even if the door to the store is hard to open physically, it is metaphorically open to anyone.
Going forward, Lou Mattei has big dreams for Page 28 and she is not scared to put them out into the world. "I see no end to this project because you can do so many things with it." From expanding to a premise with a vegan cafe to opening a Page 28 house for artist residencies, it is clear that this grand re-opening is only the beginning of a new vibrant LGBTQ+ scene in Malmö.