Summer is approaching, but that certainly does not mean an end to all indoor sporting activities in Lund. For those that are looking for a place to workout, the surprisingly diverse set of gyms in town might have something to offer.
However, for someone who is not from Lund, it might be a challenge to find the perfect place, and information is often scarce. Thus, Lundagård set out to explore some of the many gyms that can be found in the city.
Gerdahallen
Prices for students: 223-307 SEK/month or 2729-3437 SEK/year. Group activities included.
Opening hours: 24/7
The first gym on the list, and perhaps the most renowned, is Gerdahallen. Located at Helgonavägen 8, it is arguably the biggest gym in town. And not just the biggest, but also the oldest, and the second oldest gym in Sweden. It is still, to this day, closely connected to the university, and functions as a non-profit organization.
Rickard Benediktsson, the CEO of Gerdahallen, proudly explained to me that the entire facility offers 7500 square meters of training space and boasts around two hundred different classes and group activities. Furthermore, it has a tennis court, as well as saunas. The focus of the gym appears to be the group activities with about 50% of the members attending them. Some of them are even offered in English. However, with a gym of this size, everybody can find what they like, classes or otherwise.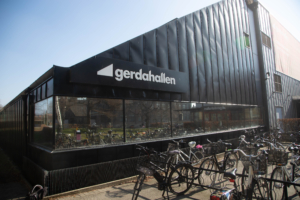 I could certainly recommend this place for those who are passionate about group activities and are generally interested in a gym that can offer a lot of different options. Furthermore, Gerdahallen will open a second facility in Helsingborg soon.
Fitness24Seven (Centrum)
Prices for students: 239 SEK/month, as well as a 249 SEK membership fee at the time of registration.
Opening hours: 24/7
Fitness24Seven is the most flexible option, period. It is a chain that is present in all of Sweden, and in five more countries. A membership means access to all Fitness24Seven gyms. There are four in Lund and is a local chain. No matter where you live, there will be a Fitness24Seven somewhere nearby.
I would recommend the one named Fitness24Seven Centrum, located at Kattesund 1, close to Stortorget. It is a surprisingly spacious venue, with a large variety of machines, weightlifting options, and group activities. Markus, the employee who showed me around, specifically recommended bodypump. Group activities are not offered in every gym, and the size of each might vary, but Fitness24Seven certainly offers an extremely accessible choice.
All Fitness24Seven gyms offer a women's gym, a section accessible only to women. This space offers an opportunity for women to work out without any unwanted attention, which can certainly be a game changer.
Lunds TK
Prices (for everybody over 18): 2400 SEK/year. For shorter durations there is a negotiable payment plan.
Opening hours: 8.00-23.00
Lunds TK, or Lund's Weightlifting Club, located at Fasanvägen 2, is probably the most exciting gym on the list. Not the largest in terms of space, or the most diverse in terms of focus, but probably the highest quality in terms of equipment, serving the focus of the club: powerlifting.
Lunds TK functions as a sports club under the local municipality, catering to those who wish to compete in powerlifting. Or to those who want to try it out.
It is hardly an amateur club: Erik and Younes, employees and board members of Lunds TK, proudly explained to me that there are a dozen regular powerlifting competitors training in this gym, including a world champion, Agnes Rudin, who managed to claim the title in her categoryLunds TK most certainly has the atmosphere of an elite sports club, but at the same time, it was very inviting.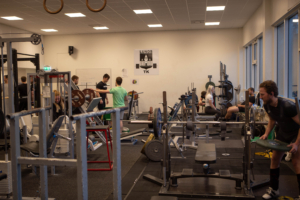 It is not a particularly big gym with many members, but that creates an ambience of friendship, and helps to connect members with each other. I saw more conversations among members than anywhere in the bigger venues. And, as Erik and Younes explained, members help each other and teach each other.
This place is certainly the best if someone wants to learn powerlifting from a closely connected community, or simply continue their sport in a motivated group, surrounded by high quality equipment.
CrossFit Lund
Prices for students: 464 SEK/month for twelve months of binding time and 514 SEK/month for three months.
Opening Hours: 5.00-23.00
CrossFit Lund, just like Lunds TK, offers a community driven experience that focuses on one specific field within fitness: CrossFit. As Eugenia, my guide, and a trainer at CrossFit Lund, explained it, CrossFit is a form of workout that combines high-intensity cardio, weightlifting, and gymnastics.
To be precise, CrossFit venues are not called gyms, but rather boxes, because they are designed and furnished in a minimalistic and industrial manner, to contrast other commercial training spaces.
CrossFit Lund is certainly a great option to get introduced to the world of CrossFit. It is a communal space that is driven, mainly, by group activities that are running all day. In case there are members who do not speak Swedish, the language of these classes also turns into English, because, as Eugenia stressed, the goal is to form a multicultural community.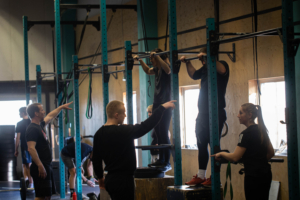 For new members, there are beginner courses that are taking place in the weekends, and the first two times are offered for free – however, one needs to e-mail them ahead. Although CrossFit might appear intimidating at first glance, scaling classes are offered for all sorts of people at every age group. CrossFit Lund appears to focus mainly on group activities, although the option for training on our own is also offered.
May 5th: The article has been updated since the prices for Gerdahallen were based on old numbers previously.