On Saturday, Lund University alumni, Zećira Mušović took her place between the national team's goal posts for the eighth time. Lundagård met with the goalkeeper to learn more about who she is and how she managed to combine full time studies with a professional football career.
Zećira Mušović, a former student of Lund University is part of the Swedish football women's national team. The team has won two Olympic silver medals (2016, 2021) and regularly compete at big tournaments around the world. Lundagard met Mušović, who plays as goalkeeper, for an exclusive interview in her hometown Helsingborg.
When talking to her, one would completely forget about the fact that she is a well-known national team player. From the first minute on, she came across as down-to-earth and approachable. Mušović answered the questions in an open, but honest way, sharing many personal insights from her life on and off the pitch.
I want to be the best in everything.
At the age of nine, she got involved in football at a club called Stattena IF. In 2012, she joined the Malmö-based club, and reigning Damallsvenskan winners, FC Rosengård. Today, the goalkeeper plays for Chelsea FC in London. Since her debut in 2018, she has played eight games for the Swedish national team.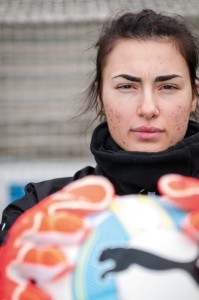 "It's the responsibility that you have as a goalkeeper, because you're the last one standing", explained Mušović when asked about the choice to play between the posts. "You need to have your whole team relying on you. I like that responsibility and to be the person that people can rely on."
Another personality trait that shines right through is her enormous ambition. From just playing football for fun, she soon developed more professional goals. "I want to be the best in everything", the goalkeeper said. "It doesn't matter if it's in school, on or off the pitch or doing stuff like sit-ups. I want to be the best and football is something that I love."
But where is this enormous ambition coming from? "My family fled from the Yugoslavia war", explained the 26-years-old. "They have never taken anything for granted. That's something that has inspired me to work the same way. I'm just trying to be the best version of myself. And luckily, that leads to big, big results so far. I really go in for [what I love, editor's note]."
While guarding the goal for FC Rosengård, Mušović pursued a Bachelor's degree in Economics and Business at Lund University. The time in Malmö and its neighboring town has shaped the goalkeeper's personality a lot. "I first arrived in Malmö as a 15-year old, it was the first time I took the train by myself", she told Lundagård. "It was the first time I went away from my family. By playing for the club and winning almost every year, I learned how to be a winner. Even if I hated to lose even before, my hate for losing became even bigger."
Studying a full-time degree while being a goalkeeper at a club like Rosengård was a huge effort for Mušović, who was still living in Helsingborg at that time. "I'm impressed by myself", she said with a laugh. "My day could be taking the car to Lund for a class and then training in Malmö. Then back to Lund to have a class in the afternoon. My days ended late in the evening."
Despite the stress, she finished both school and continued playing professional football. However, there were sacrifices to be made along the way. Mušović was never able to dive into Lund's famous student life. "I saw it from a distance because I could never go to the parties", she said. "It's obviously because I always had a game the day after or training."
You always have to prioritise what you want
Looking back, how does it feel to have missed out on the social aspects of student life?
"You always have to prioritise what you want", the goalkeeper said firmly. "I managed to get my diploma and today, I play at the highest level and that's enough for me. Of course, I can see there's the fun part and I'm happy that others get to experience it."
Luckily, her professors at university were very supportive of her dual-career. Mušović jokes she was always the one being late to classes: "I remember one lecture I had to come straight [to from the airport] to, because we had been travelling. I had to take a taxi to class and was 15 minutes late. But [the teachers, editor's note] knew why and were really helpful."
When reflecting on her study days, the goalkeeper points out that her time at Lund University has taught her time management, structure and above all discipline. The latter one was very handy on the further way to the highest level of professional football.
Today, Mušović leads by example and is a role model for others who pursue a similar career like her. "That's something that really inspires and motivates me to work even harder", she said. "I want to show that everything is possible, not only for myself, but for the people around me and people with different backgrounds. Because for me, it doesn't matter where you come from. It's where you go."