Two recently graduated students, Jaxon Pope and Riccardo Centazzo, from the Master's programme in Industrial Design at Lund University's faculty of engineering finished in second place in the prestigious design competition "The James Dyson Award ''.
The James Dyson Award is an international design competition for engineering students from 27 countries. A winner is chosen from every participating country and selected participants are then allowed to continue to the finals where an international victor is chosen.
Jaxon Pope and Riccardo Cantazzo who have both studied the Master's programme in Industrial Design at LTH finished at second place in the Swedish competition and will advance to the international finals.
The awarded innovation is called ASPA (All Season Protective Aid) and is a textile product that can be used for shelter. The purpose of ASPA is to help people in vulnerable situations.
"All Seasons Protective Aid offers shelter support for the growing number of displaced people globally through a multi-functional solution that adapts to a wide range of environments and emergency situations", Jaxon Pope and Riccardo Centazzo explains in an email to Lundagård.
They also express their feelings about the competition: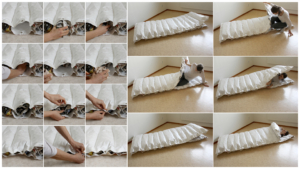 "We were happy to hear that the project raised enough interest to be awarded second place, as we hope this will allow more people to become more aware of the problems we have attempted to tackle in our project, and hopefully more designers to work towards these pressing issues".
The international winner will be selected on the 17th of November.